One of my favorite dishes is chicken curry.  So it was bound to find it's way to our dining table.  I believe I've only cooked it thrice and there was a very long gap between the first and the second attempt. 
My first attempt goes way back last year and the second, just a month or two ago.  The third, just a mere 2 or  weeks after the second.  I know that this is such a simple dish to make but the first time I tried cooking it, I was still very intimidated by the kitchen and cooking itself.  I was very recipe dependent and hated the words "season to taste".  Hee hee.  You know where this is going, I'm going to blame the recipe for the failure of my first try.  :P  I followed it to the letter even if I felt uncomfortable putting 3 tablespoons of curry powder into the pot where the chicken pieces were waiting for this all important ingredient.  The end result was a dish screaming CURRY…too much CURRY.  So unlike my grandmother's!  I guess that experience kinda burnt me.  Hee hee.
Getting tired of our usual chicken dishes, I finally decided to give it a try, this time, trusting my judgement more.  I reduced the amount of curry powder to about a teaspoon or so.  The end result was well received by hubby and Abby. :)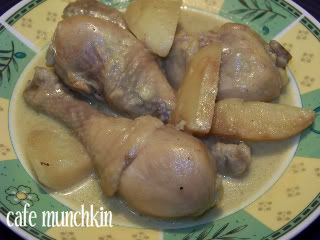 This was my 2nd try at chicken curry.  I didn't have any bell peppers when I decided to give this dish a second try, thus, the lack of color.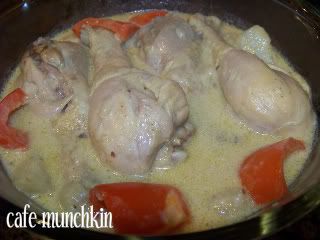 This was my third and latest try.  I made sure I had the red bell peppers at least!  But I still lacked some of the ingredients, like the celery and green bell peppers. Hee hee!  While the second version tasted good, this one was even better, maybe due to the addition of the bell peppers. I could only hope that the next time I cook this dish will be the best tasting of all. *cross fingers*
Here's the complete recipe, which I snagged from HERE. 
Ingredients :
· 2-3 tbsp. oil
· 3 potatoes, peeled, quartered and fried
· 1 lb. chicken, cut into serving pieces
· 3 cloves garlic, minced
· 1 large onion, quartered
· 1 tbsp. patis (fish sauce)
· 3 tbsp. curry powder (DO WATCH THE CURRY POWDER, PLS.  I'D SAY PUT A LITTLE AT A TIME AND SEE HOW YOU LIKE IT.)
· salt and pepper
· 1 cup water
· 1 red bell pepper, cut into big squares
· 1 green bell pepper, cut into big squares
· 3 celery stalks, cut into 1-1/2" long
· 1 cup coconut milk or evaporated milk
Cooking Procedures :
1. Pan fry potatoes. Set aside.
2. In the same pan, fry chicken pieces and brown a little.
3. Add garlic and onion. Sauté for a few minutes until soft.
4. Pour in patis and season with curry powder, salt and pepper. Stir for 2 minutes.
5. Add water. Cover and bring to a boil. Lower the heat; add celery, bell peppers and fried potatoes. Simmer for 3 minutes or until half done.
6. Add milk and stir occasionally. Cook for another 7 minutes (or lesser when using evaporated milk because the liquids will curled).
7. Remove from heat. Serve hot.