One of  my favorite all time "fun" (as opposed to "junk") snack back home is one that is called "Boy Bawang"…a corn bits snack in garlic (bawang)  flavor.  When we went to the Asian supermarket one time, I just had a sudden craving for it.  However, they only carried the "hot" ones.  I had to settle for the next best thing this side of the world…Super Bawang!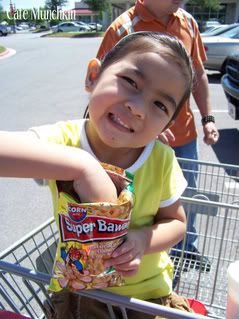 Here is Abby digging into what is supposed to be MY snack.  Hee hee!  But how can I resist such a beautiful smile?  Instead of ME sharing it with her, Abby had to share it with me instead. :D

Funny how something so small could be so comforting at the same time…and I'm referring to the corn bit Abby is holding.  Hee hee! :P

I believe it was my SIL, Claire, who got me so hooked on this snack.

Look at that!  *sigh*  Anybody from home coming to visit us soon?  Hee hee!  This would make for really nice pasalubong. ;)