I mentioned just a few posts down that Abby prefers Asian food, specifically, dimsum,  for her school lunch.  .  Occupying top spot right now is siomai/shumai, which dislodged steamed buns, siopao, as we call it in the Philippines.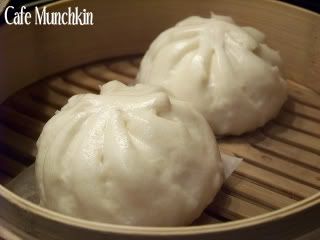 Roasted Barbecue Pork Steamed Buns
Since Abby started bringing siopao to school for lunch, 2 teachers have already asked me about them.  Hee hee.  They both asked me, on separate occassions, what these were called, what's the filling and where do I buy them.  Of course, I happily share the info with them.
We normally buy 2 varieties of siopao whenever we go to the Asian supermarket.  We've so far tasted about 4 flavors and the roasted barbecue pork remains to be Abby's favorite.  So we always make sure we have that in the cart.  It doesn't taste bad at all.  I was able to eat a few when I was still eating pork.  ;)  One wouldn't have guessed it was bought frozen from the store.  What we have yet to try though, are the ones with sweet fillings.  Maybe we ought to sometime.
Will steamed buns  reclaim the number one spot in Abby's tummy tickler list for school lunch?    Only time will tell.  :D