We were in milkfish (bangus) heaven last Friday.  ;)  It's amazing how something as simple as fried milkfish brought us ever familiar and ever comfortable feelings of being home.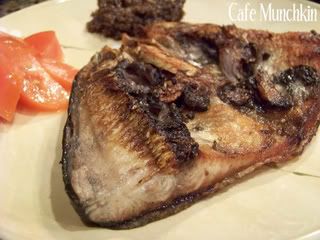 For lunch, we ate the tail half and for dinner, the head half of the milkfish.  We had shrimp paste (bagoong) and sliced tomatoes for our dipping sauce.  A plate of hot steaming rice completed our meal.  *sigh*  We ate way toooo much last Friday, I tell you!
The kitchen was a virtual war zone.  That normally is the case when I'm frying something…specially fish,  Milkfish is one of the more unforgiving choices for frying.  Ugh!  Frying and I just don't mix.  But I'm getting the hang of it, really.  ;) 
It had to take a move to the US for me to realize how simple this is to make.  Back home, I would have probably opted buying the marinated ones already.  Hee hee.  Just as my Mom taught me, I first rubbed the fish with salt and then allowed it to marinate in garlic (I used lots, garlic loving people that we are!) and vinegar.  I fried it just in time for lunch/dinner.
This will definitely be making regular appearances at our dining table. ;)