Yesterday, 04 May, marked the first anniversary of our (my daughter and me) move to Texas.  Hubby celebrated his on 09 February.  I can't believe it's already been a year since we left the Philippines!  To celebrate, we had lunch at  Pappasito's for some Tex-Mex feasting.  We've already heard quite a bit about Pappasito's and it was about time we gave it a try.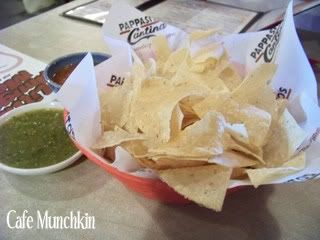 Is it safe to say that chips and salsa are the official appetizer in Tex-Mex restaurants?  This was on the house.  We would have loved a sour cream type of dip, too! :)

Abby chose corn dogs from the child's menu.  She loved it, but as always, didn't finish all of it.  She was thrilled with the criss-cut fries.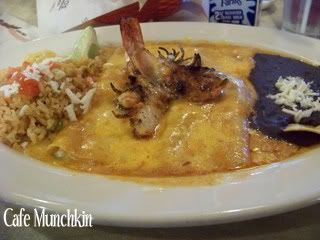 I had the Riviera: spicy shrimp enchiladas with chipotle cream and grilled Tijuana-style shrimps.  I was surprised that it wasn't spicy at all.  But I wasn't really disappointed.  It was creamy and cheesy, indeed.  Definitely not for the lactose intollerant.  Hahaha!

Hubby ordered Rico, a Tex-Mex combo of beef and chicken fajita enchiladas with meat and red chile sauce.  It was good, according to hubby, but, between the beef and chicken fajitas, he preferred the beef.  According to hubby, it was tastier. :)
I mentioned some time ago that Chuy's is our favorite Tex-Mex restaurant. HOw does Pappasito's fare? The food is good, really. But honestly, we can't decide which is better because we thought the food tasted the same. :D How about a tie? :)
I have another WS entry: my suddenly camera shy little girl.  More Weekend Snapshot HERE.
Have a great new week, y'all!