I don't know why it took me forever to discover these…
These are called Gwa Pao as stated on the pacakging, cuapao as we call it in the Philippines.  Back home, I loved buying these in one of the stalls at Tiendesitas and they are sold with chopped homemade bacon as fillings at 3pcs. for 100 pesos.  Ahhh, those were my pork eating days.
Anyway, these soft white steamed (unfilled) buns allowed me to come up with something new for Abby's school lunch….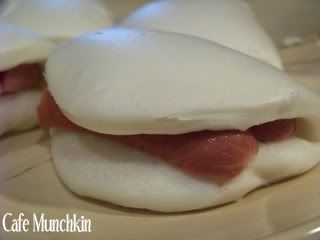 I used hotdogs for fillings.  Hee hee!  And she loved it!  Normally, when Abby has the usual hotdog on a bun lunch, she will end up eating only the hotdog and the bun would find its way back to our home. :)  The reverse happened this time.  I prepared two cuapaos with hot dog fillings for Abby like so…
…and when she came home, both cuapaos were gone but there was still a little piece of  hotdog left.  Nevertheless, I was happy.  These cuapaos, Abby and I will go a long way.  I'll just have to pair them up with Abby's favorite fillings. :)
Another winning Mommy moment for me.  Hee hee. ;)