As I mentioned in my Wordless Wednesday post, it's Teacher's Appreciation Week from 05 to 09 May.  In Abby's school, the kids bring a little something for their teachers everyday, that fall under a certain theme.  Monday was "Made on Monday" so the kids brought something that they themselves made.  Abby brought a painting for each of her 2 teachers.  Yesterday, it was "Tuesday Treats".  Instead of buying something from a store, I made my own treats.  I started at around 8pm.  By that time, I was already regretting not having bought from a store.  Hahaha.
I got my Hershey's Classic Recipes cookbook out and weighed my options.  I naturally chose something easy…White Chip Brownies.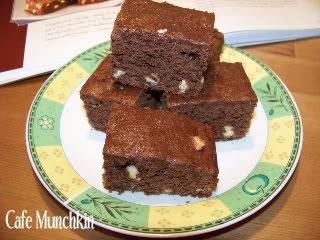 Here's the recipe as taken from the cookbook…
4 eggs
1 1/4 cups sugar
1/2 cup (1 stick) butter or margarine, melted
2 teaspoons vanilla extract
1 1/3 cups all-purpose flour
2/3 cup (Hershey's) cocoa
1 teaspoon baking powder
1/2 teaspoon salt
1 2/3 cups (10 oz. package) (Herhsey's Premier) White Chips
1.  Heat oven to 350degF.  Grease 13x9x2-inch baking pan.
2.  Beat eggs in large bowl until foamy; gradually beat in sugar.  Add butter and vanilla; beat until blended.  Stir together flour, cocoa, baking power and salt; add to egg mixture, beating until blended.  Stir in white chips.  Spread batter into prepared pan.
3.  Bake 25-30 minutes or until brownies begin to pull away from sides of pan.  Cool completely in pan or wire rack.  Cut into squares.
Makes about 36 brownies.