Why anyone would want to have a toast like this is beyond me.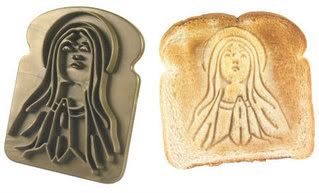 This is called "Holy Toast: The Miracle Bread Stamper that makes a heavenly breakfast! "
Tsk, tsk!  I just don't get it.  It's supposed to be a "gag gift for those who believe in miracles."  Not funny, I say.  Not funny.  Or is it just the Catholic in me talking?  Oh well.