That probably didn't sound too appealing to many.  Why will one sweeten an already sweet sweet potato?  Nyahahaha! :P
I love my late Nanay's (maternal grandmother) and Tita (aunt) Luming's minatamis na kamote (sweetened sweet potatoes).  But that's me…I love anything that's sweet. ;)  I had two big sweet potatoes waiting desperately to be "useful".  I had to do something with them before they grew roots on them.  So I decided to turn them into sweetened sweet potatoes.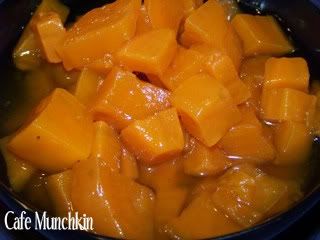 The end product isn't exactly the one I was used to having.  One reason could be that the sweet potatoes I used are of a different variety from the ones that we have back home.  As you can see in the photo,  the color is on the orange side, while the ones in the Philippines has a similar color to those of regular potatoes.  Plus, I wasn't so happy with the syrup.  It took way too long to caramelize and as usual, I got impatient and just turned off the fire before it achieved the thickness I was hoping and waiting for.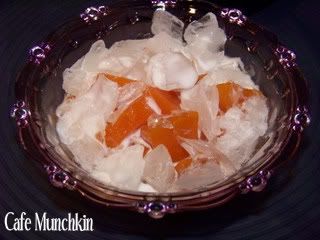 This is how I eat my sweetened sweet potatoes…with milk and ice.  It would have been better if the ice were crushed.  But we don't have an ice shaver and I was too lazy to get the blender out.  Anyway, Abby seemed to like it.  I thought it was all right.  Maybe next time, it will come out a lot better.
In making this dessert, I boiled 2 cups of sugar and 1/2 teaspoon salt in 3 cups of water over medium (Next time, I probably will just reduce all of these measurements in half.)  I lowered the fire when the syrup came to a boil and let it simmer for 10 minutes.  Then I added the sweet potatoes.  It is done when the sweet potatoes have become tender and the syrup has thickened and turned slightly golden brown.  But as I've said, I didn't wait for the sugar to turn brown. Ugh.  Next time, I'll be more patient, promise. :)