"Any" is this week's Photo Hunt theme.  I was looking for a gorgeous-looking dish to post but, since tomorrow's Mother's Day, I decided on something more approrpiate. ;)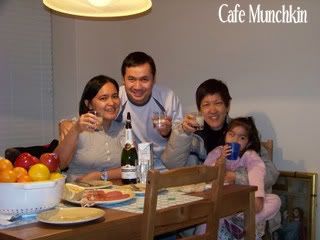 Cheers to all moms!
Happy Mother's Day!!!
This photo was taken a little after midnight of January first.  It has been a Filipino tradition to welcome the new year with a nice meal.  Usually, the dining table is filled with food that are believed to bring prosperity…round fruits (which we have, as you can see!), noodles (for long life), sweets & sticky food (so auspicious luck sticks to everyone in the home), etc.  This was our first family New Year's celebration in the US and I'm very glad that my Mom was able to join us. 
I have a cybergift for all moms HERE.  More Photo Hunt HERE.