Do you use an apron?  I rarely do.  The only times I use an apron is when we're expecting guests and I'm pressed for time, so much so that I have to change into something decent already.  Only then will I protect my clothes from possible oil and sauce  splatters and who knows what else.  The aprons I have, by the way, are really cheap ones that I bought from SM, the national department store of the Philippines.  Hahaha!  I don't know what possessed me to look for aprons on line but I did and I was really surprised to find really nice ones.  They're so nice they could actually already be mistaken for an actual dress.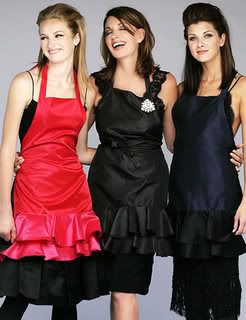 Haute "Glam It Up" Hostess Aprons by Elizabeth Scokin Productions
See what I mean?  I never looked this good when entertaining guests!  Have you ever?  Looked this good, I mean?  Hahaha!  I really do like these aprons.  And this next one, too….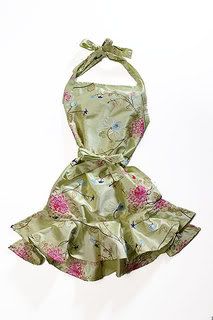 This is called "Kiki" also from the Glam It Up collection of Elizabeth Scokin Productions.  It has a price tag of, hold your breath, $200.  Ooooooh!  But it's on sale now for $100.  Any takers?
By the way, this is not a paid post.  Just so we're clear.  Hahaha! :P