In 2006, hubby and Abby joined my Mom and me for the first time in Europe.  Just a little backgrounder, we are in the manufacturing business and we export metal sculptures to different countries.  Our business has brought us to a number of countries via trade fair participation and twice a year for the last 12 years, we've been going to Germany to exhibit our products.  Now back to my story…
Abby was only 18 months old when we made that trip and meal times turned out to be such a challenge.  She didn't eat much most of the time and the only meal she would ever eat with gusto were the chicken nuggets from Mc Donald's.  Go figure!  In that trip, we were able to visit a total of 5 countries and for sourvenirs, we had Happy Meal toys to show for…from each of the 5 countries. Really!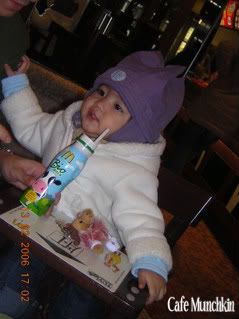 This photo was taken at the Mc Donald's located at the Frankfurt am Main Hauptbahnhof, the main train station.  Abby's Happy Meal drink is milk referred to as "Bio Milch".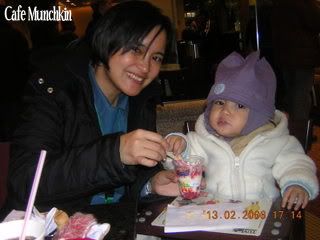 Aside from the chicken nuggets, Abby enjoyed the fruit yogurt that came with the meal as well.  We were at this Mc Donald's location for lunch  two days in a row.

This was at a Mc Donald's in the city of Metz in France.  The toy that came with the Happy Meal was a mini radio, which upto now, Abby still loves playing with.  It's her all-time favorite Happy Meal toy.

We were very thrilled with this radio because it features Billy Crawford who, at one time in his life, was a child actor in the Philippines.  Hee hee.  Small world?

These are our family friends, Uncle D and Aunt H.  I don't know if they'd mind having their photo out in cyberspace so I had to put sunglasses on them.  :D  Anyway, I had to publish this photo if only for the heart-shaped chicken breast.  It was very apt for the Mc Donald's tagline that time which was "Lovin' It" (translated to different languages). 

I simply bought a Happy Meal for take out for this Mc Donald's in Maastricht, Holland.  We just needed our souvenir toy!  Hahaha!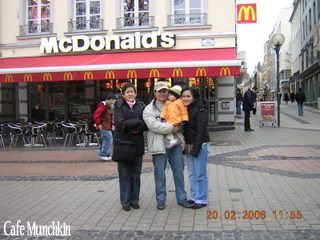 Finally, Mc Donald's in Luxembourg.  We actually ate at another burger place called Quick.  But we did still buy a Happy Meal, which Abby ate at Quick.  Hee hee.
As much as possible, we try to sample the local cuisine of the places we visit whenever we travel. That didn't quite happen on this trip. I don't really mind though as that would be a perfect excuse to revisit these beautiful cities. ;)