I was going through some photos from home looking for food adventures and food pics I can share here and I saw this…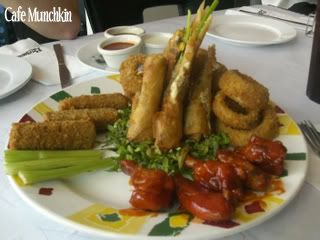 Aaaawwwww!  I am very much capable of torturing myself.  :D This is hubby's and my favorite appetizer platter from Burgoo (I wonder if it's still around!).  Actually, we see it as appetizer and viand (ulam) in one.  The platter includes buffalo wings, Sante Fe spring rolls, mozzarella sticks and onion rings.  Burgoo is our favorite casual dining restaurant for American food.
This looking for food pics isn't helping me at all as I try to control my food intake.  I just made myself hungry.  Argh!