During one of our Japanese food cravings not too long ago, we decided to give a nearby Japanese restaurant a try.  The name of the place is Odaku Sushi and we always pass by it on our way to church.  Until that night we gave it a try, we thought it was just one of those fastfood type of sushi places, kinda like the Japanese counterpart of Panda Express.  We came upon this conclusion because it really doesn't look much from the outside.  It wasn't until we were parked outside that we realized it was actually a casual dining type of a place.  We proceeded to give it a try because we were already there anyway.
There weren't very many people.  Only two tables were occupied and the place is actually of good size.  In my mind, I was already thinking, "uh-oh". :)  The place was dimly lit, too dim for me really.  Well, I can't blame them.  Interior decoration obviously isn't one of the stronger points of this restaurant.  Take a look at this wall decor for instance…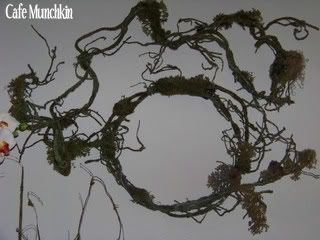 See what I mean?  And I'm not a huge fan of plastic floral arrangements either, which they had lots of.  When they make more money, I hope they can give the place a make-over and perhaps think about using teak furniture.
Moving on to the food…  We ordered from the kids' choices for Abby.  We picked the chicken yakitori and gyoza combo.  It has 2 sticks of yakitori and about 2 or 3 pcs. of gyoza.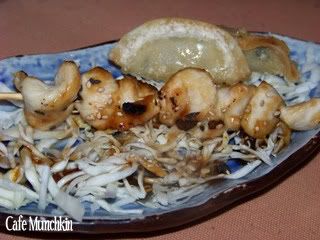 chicken yakitori and gyoza (The other stick was already on Abby's plate when I took this picture.)
The chicken was a little too tough and the gyoza could use a little less salt.  Abby didn't like any of these one bit and ended up eating some of my food instead.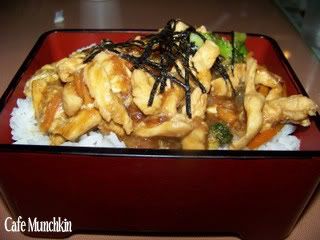 my chicken terriyaki meal
I ordered chicken terriyaki.  I was hopeful because it came in a really nice box. :)  But what can I say?  I've had better. :(  It was ok at best.  The terriyaki sauce makes or break a terriyaki dish.  And with a very good sauce, one can easily finish a bowl of rice sans chicken or any other meat.  That definitely isn't the case with this one.  Sorry.
Hubby was the only one who was happy with his food.  He had cha soba…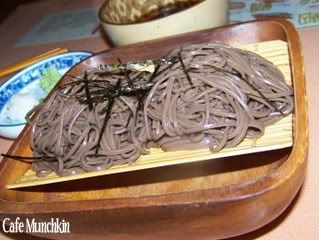 hubby's cha soba
One can do very little to turn these noodles into a disaster!  So this dish alone doesn't give the place enough redemption points.  Hee hee!
For now, we've decided not to go back to this restaurant.  The only time we will is when we've already forgotten about our first visit. :)