Seasons is the premiere buffet restaurant of The Manila Pavilion Hotel.  We had the chance to dine there in February last year a few days before Hubby left for the US.  I wrote all about it HERE.  However, I didn't post photos within the entry.  It's been a while since we've had a decent buffet…buffet as we know it from back home.  So join me as I torture myself with photos of what I look forward to having when we come home for a vacation…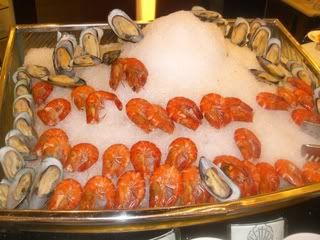 Seasons doesn't have a very extensive selection of fresh seafood.  But as long as there are shrimps, I won't really complain. ;)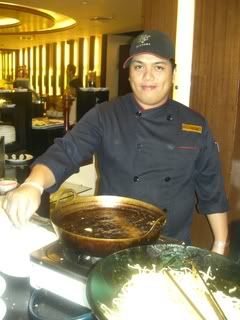 This is Oscar. :)  He was in charge of all the cooking at the seafood station.  He made us very yummy tempura and if I remember correctly, he also made me some shrimps in garlic and butter.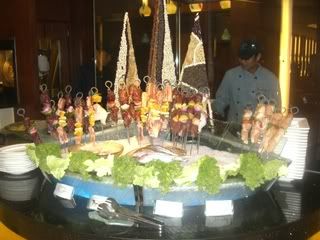 Kebabs overload!  Oh why did I ever stop eating beef and pork? :D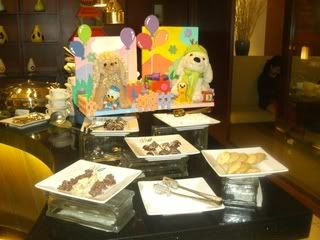 Cookies and assorted chocolate goodies to tickle the kids' tastebuds…and those of the kids at heart, too! ;)  You bet I was tickled silly.  Hee hee!

This is the part of any buffet spread which I will most likely skip so I can have room for the "dessert heavy weights"…heavy in sugar and heavy in calories.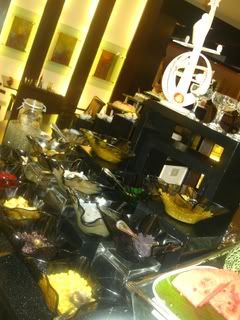 The Halo-halo station.  That time, I skipped this one, too.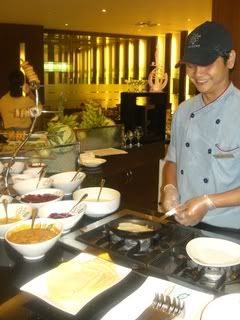 This is Melvin.  He made me my favorite buffet dessert of banana caramel crepe topped with vanilla ice cream.  *sigh*
The next two photos are of terrible quality but I just wish to show you how dessert was so beautifully presented…

Isn't that the prettiest flan ever?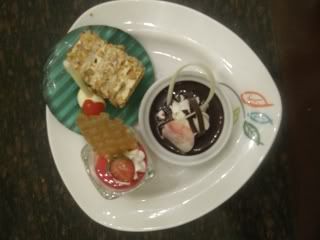 And here are more uniquely plated desserts .  I can no longer recall what these are exactly but I'm guessing sans rival, chocolate mousse and strawberry cheesecake.
By looking at these pics alone, I think I've gained a few pounds already!  It looks like I'll have to invite hubby to join me hit the treadmills at the gym tomorrow.  *cross fingers*