We went to the Asian supermarket (MT Supermarket) yesterday, specifically,  to buy lunch items for my daughter.  She just loves having dimsum for lunch in school and we urgenty had to restock.  Hee hee!  After grabbing what we needed from the frozen food section, we proceeded to go through some of the aisles at the supermarket.  While at the Japanese aisle, hubby and I decided on a very simple impromptu Japanese dinner at home. ;)
My husband and I both love soba  (Japanese buckwheat noodles) so we grabbed a package of buckwheat noodles, a small bottle of soba tsuyu (noodle dipping sauce), a jar of nori (roasted shredded seaweed) and a tiny can of wasabi powder.
When we got home, I started dinner after playing with bubbles with my daughter.  Here's the "before picture" (two bundles of buckwheat noodles were already in the pot of boiling water when I took this picture) of our dinner.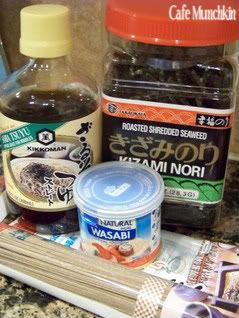 And here is the finished product…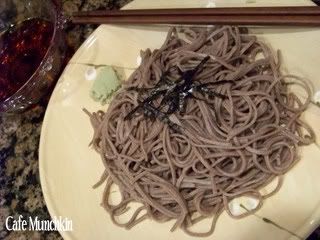 I wonder why it took us so long to make this at home!  Tsk tsk!  It would have been nice if I had my own zaru, a sieve-like bamboo try on which chilled soba is typically served.  I'm glad we bought wasabi in powder form instead of the already prepared tubed ones.  Powder is definitely better than tubed.  I only needed to add water and voila, it was ready in no time.  So what if it's carbo loading?!  Hahaha.  It looks like we'll be having this at home more often. ;)  If you can boil water, then you can very well have soba in the comforts of your own dining room anytime. :D
Have a great week, y'all! 
ps:  My other Weekend Snapshot entry is "Bubbles and Blooms". :)