It's barbecue season once again.  Last year, it was in May when we were invited to our first barbecue and it was in June when we had our first and only barbecue here at home.  We invited my friend, Bet and her kids to join us.  After that, it was just too much work to get the grill out, set the coals on fire and grill for 3 people, more like 2 and a half because my daughter is only 3 years old. 
Here's a pic from our 1st ever barbecue here in Texas…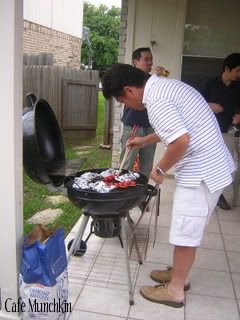 In the pic is hubby's former boss, Aki (Goto-san).  He makes the best homemade gyoza!  And he makes the best grilled scallops!  He does take grilling seriously. :)  The grill in the pic is ours now.  Aki gave it to us when his family moved back to Japan last January.
Lately, hubby has been hinting about grilling.  For all we know, our grill might already be rusting under it's cover.  Hee hee.  And then, there's the grill we inherited from Aki.
Here's a pic of hubby taken in June last year, beer in one hand, loving his role as grill master…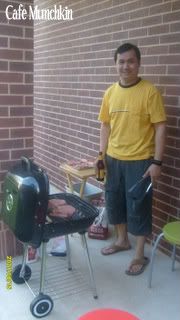 And here is hubby at my friend Bet's house two weeks ago…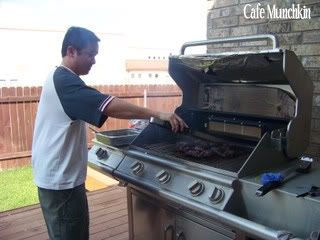 Hubby loves the fact that "shorts season" is here.  He's fond of capris, too.  Whether shorts or capris, the more pockets, the better.  And it looks like Aki (in the first picture) probably feels the same way.  Hee hee.  I think they will both love the 511 Tactical Shorts.  So what if they are actually considered police gear?!  The 5.11 Tactical shorts are special purpose-built shorts.  They were designed to carry bulky items and remain durable.  You should see the amount of stuff that end up in hubby's pockets: his huge wallet, a ton of keys, another ton of coins here and there and sometimes, a Swiss knife, too! 
I especially love the 5.11 Academy Shorts because it is both stylish and durable.  It has 7 pockets a double seat and 42 bar tacks! ;)  I can probably have hubby carry a few of my stuff in his pockets, too! :D  I dig the colors it comes in: khaki, OD green and black.  Do you think shorts are a little too unromantic as Father's Day present?  Well, just a thought.