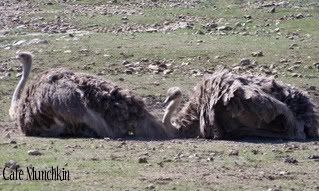 Since I stopped eating pork and beef in the middle of January this year, I have been eating a lot of chicken and ground turkey.  During an idle moment a few days ago, I thought, "how about ostrich meat"?  Is that too crazy? :)  Have you ever tried eating ostrich meat? 
My lack of knowledge about ostrich meat and recipes where it is used led me to google the subject matter away. :)  I'm glad I did because I found out very interesting facts about ostrich meat.  Seriously!  Here are some that I got from About.com in an article by Derrick Riches with the no-nonsense title "Ostrich":
The ancient Egyptians hunted the ostrich for food.
These large flightless birds can weigh in at up to 250 pounds and stand 7 feet tall.
Instead of being similar to poultry, ostrich is much more like beef in taste and texture.
It has a great versatility and can be bought ground, cut into steaks, as sausage and even hot dogs.
Ostrich can be substituted for most any meat and grills very much like lean beef.
It is leaner and lower in cholesterol than most any other meat, which is why ostrich is frequently found in health food stores.
Because it is so lean, you will see a lot less shrinkage during cooking.
Ostrich is higher in iron than beef so it has a very red color to it, even when it is properly cooked.
It is a great way to reduce your fat and cholesterol intake, while still giving you a meaty meal.
Ostrich has a great flavor of its own and is generally well liked by the pickiest of eaters.
What do you think?  You know what else?  You can use ostrich feathers for other things, too, like turning them into center pieces!  Now that's making full use of the bird!  Hahaha! :)
Enjoy the rest of your Saturday! :D