This week's Photo Hunt theme is "Bad Hair".  I thought I'd have to sit this one out but I found this…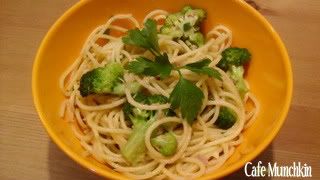 Wiii!  This is "Aglio e Olio Angel HAIR Pasta". ;)  It's just angel hair pasta with olive oil, garlic, broccolli and tuna.  It only turns into BAD angel HAIR pasta when you eat too much of it. :D  Eating excessively is bad, right? :P Hee hee.
I have another photo hunt entry HERE, my daughter as Hannah Montana. ;)  Visit other photo hunters here.
Have a great weekend, everyone!