It used to be that bread will just expire on us.  Well, not anymore.  Not after I found the perfect Bread Pudding recipe. ;)  Sometimes, we buy an extra loaf of bread purposely so I can make bread pudding for hubby and Abby.  My daughter just loves bread pudding and can have it for breakfast, dessert and snack.  Hee hee.  That's my girl.  My first bread pudding adventure wasn't so great.  I posted an entry about it here, and the end product looked like this,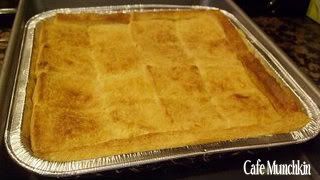 I found the recipe I used for the above bread pudding in the internet.  This was in October.  It was ok but it was a recipe that needed a wee bit of tweaking.  It was in December when I decided to give making bread pudding another try.  You have to understand that growing up, my grandmother made it all the time and I just loved it.  I loved all the food that came out of her kitchen!  Hee hee!  So I was on a quest for the best bread pudding recipe.  I found it at one of my favorite food blogs, Market Manila.  I should have known better and looked for the recipe there the first time!  Tsk, tsk!  Now, my bread pudding looks like this…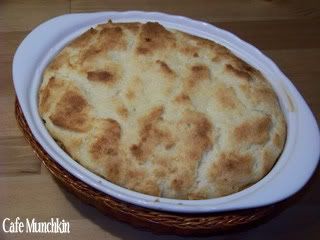 Can you feel the pride?  Hee hee.  I made this in December.  Actually, I made it several times in December.  Since then, I make bread pudding almost every other week, except last month.  I wanted to give my hubby and daughter a little break.  :D  First, here's the recipe, credit for which goes to MarketMan:
stale bread cut into small pieces
1 cup cream or 1.5 cups whipping cream
2 cups whole milk
2/3 cups sugar
2 medium sized egg
2 teaspoons vanilla
dried fruit (optional)
To make:  Place the pieces of bread in an oven proof baking dish covering the bottom.  If using dried fruit, sprinkle over the bread then top with the remaining pieces of bread.  Press down firmly to flatten and "trap" the dried fruits.  Whisk together all the ingredients for the custard then carefully pour over the bread pieces until they are practically submerged.
Let this stand for about 10 minutes so that the bread can absorb the cream/milk/egg mixture.  Pre-heat the oven to 350 F, and put the prepared dish into a larger pan with about an inch of hot water and cover this all with some foil and put into the oven. Make sure the foil isn't touching the tops of the bread.  Cook this for roughly 30 minutes (longer if you made a bigger pudding) and remove the foil and cook for another 20-30 minutes until it is puffed up, the liquid has been absorbed and the tops are just lightly browned.
In the case of the puddings I've made, I cooked them for 45 minutes with the foil cover and 45-60 minutes uncovered.  I use a lot of bread, that's why! :D  One time, I experimented a little and added chocolate chips…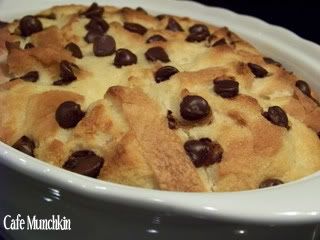 And here's how a slice looked like…
Being the chocolate lover that I am, I kinda liked it.  But my daughter didn't so no more chocolate chips on bread puddings.  Hee hee.  Another time, I held off on the cream and substituted whole milk with soya milk.  I added more sugar, too.  The end product looked like this…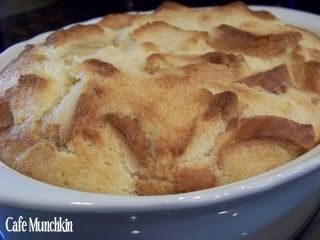 And a slice looked like this…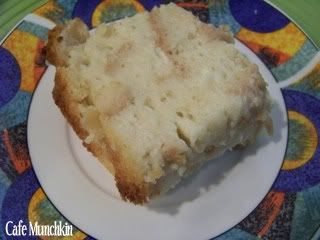 Another time, I used a whipping cream and soya milk combo.  What I have yet to do is add pieces of dried fruit. :D  That's next on my agenda.  All the bread puddings I've made thus far are moist that they simply melt in your mouth.  Promise!
oOo
I have another Weekend Snapshot entry HERE.  Have a great week, everyone! ;)