Sometime in May last year, hubby attended a farewell dinner for one of his 3 Japanese colleagues who will be going back to Japan with his family.  He couldn't stop raving about the steak and seafood restaurant they had dinner at and he was sure I would love the place, too.  The thing is, the restaurant is bordering on fine dining and with a toddler, it would be quite a challenge to have dinner in such a restaurant.
However, in February this year, we finally had a chance to dine at the said restaurant just before my Mom went back to the Philippines.  The restaurant's name is Truluck's.  My mom loves seafood.  Well, everyone in my family does.  Unfortunately, in this part of the world, fresh and really good seafood can't exactly be had just anywhere, unlike back home.  We're used to having homecooked fresh seafood a couple of times a week.  As a treat to my Mom whom we've deprived of seafood she's been accustomed to, we thought it wise to bring her to one of if not Austin's best.
As soon as we were seated, I was reminded why we've been avoiding this place all the time.  BREAKABLES!  Hahaha.  I couldn't even look at the menu for a long period of time because I was afraid Abby might topple or break something.  I had to constantly remind her to sit down and to leave the candle on the table alone.  :D
The first clue of a restaurant's level of "class" is the drinking water…
Nice, ei?  I loved this touch.  Hee hee.
For appetizers, we had shrimp cocktails, which was so uniquely presented…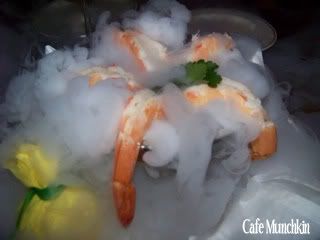 Shrimp Cocktail
Ooooh!  Aaaaah!  We can't help but mutter under our breaths.  I featured it here, for my "Different" themed Photo Hunt entry.
Here's how it looks without all the smoke (dry ice + water)…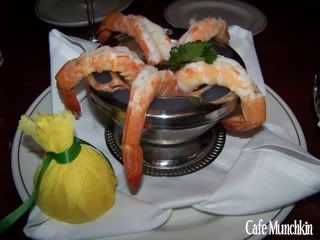 Did you notice the yellow thing with the green ribbon?  Abby thought it was a gift.  Hee hee.  It was a lemon. ;)  Nice touch, I say!
Hubby had a  Grilled Day Boat Halibut.  It is served with chive compound butter, Truluck's signature parmesan mashed potatoes and braised wild mushrooms

Grilled Day Boat Halibut
I, on the other hand, had a Jalapeño Salmon.  It's a grilled fillet of Scottish salmon topped with seasoned blue crab meat, Gulf shrimp and Truluck's signature jalapeño Béarnaise sauce.  It was also served with Parmesan mashed potatoes.  I loved it but I was expecting a bit more kick from the jalapeño. :D

Jalapeño Salmon
My Mom had the best meal in our table, Fresh Steamed Pacific Northwest Dungeness Crab served with Truluck's rice and steamed broccoli.  Abby liked it a lot.  We teach her very well, I guess.  Hee hee.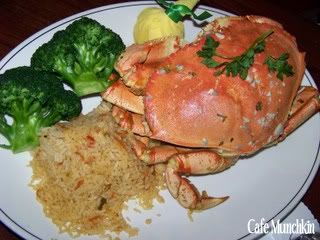 Fresh Steamed Pacific Northwest Dungeness Crab
And for dessert, we had the Truluck's Chocolate Sack.  Lookey, it's a real beauty…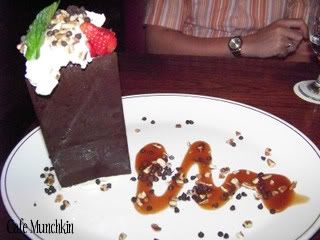 It's funny how my heart seems to race just by looking at these pictures and remember how heavenly this tasted.  The "sack" is Hershey's milk chocolate and inside, it is filled with yellow sponge cake, lots of blueberries, lots of strawberries, and cream cheese frosting.  It is one of the best desserts I've ever had in a long time.  I featured it in one of my Wordless Wednesday entries.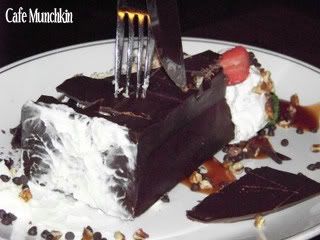 After I took a photo of the sack, our server, laid it down on the platter and started slicing into the chocolate.  That was the only way we'll ever get to eat what's inside!  Hahaha!  After all the slicing, chocolate was drizzled on the already chocolatey goodness of a heavenly dessert.  *sigh*
Tadaa!  Now all ready for the taking!  We took home about a half of the dessert. It's just way too big.
A meal at Truluck's is "luxe" in all aspects…ambiance, food, presentation.  I simply love it.  I hope we can go back there again soon.  But I may have to leave Abby with a friend for at least two hours.  Hee hee.  Should I?  Would I?  Could I?  Yaya Amor, I need you for a few hours.  Get over here quickly!  :D