Cantaloupes, or melons as we call them in the Philippines, were on sale at my favorite supermarket last Monday.  I bought 3 pieces.  I totally forgot that hubby was out of town so between Abby and me, 3 pieces of melon is A LOT.  :D  It was only yesterday that I got to open and cut them all up for chilling in the fridge.  They are soooo sweet.  I can't help but pop a few pieces in my mouth every now and then while I was cutting them to bite-sized pieces.  Abby loved them, too!
As soon as they were cooled,  I made Abby a no-brainer Melon and Cream.  :D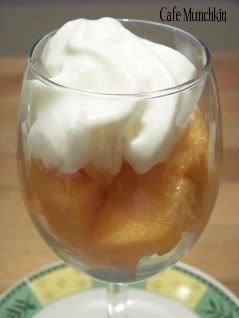 She just likes whipped cream so much!  ;)
Coming from her school today, Abby wanted me to buy her smoothie at the Tropical Smoothie Cafe, which is just around the corner from where we live.  Ever the scrooge that I am, I told her I'll just maker her a Melon Smoothie at home. ;)  She asked if she could help me and I agreed.
As soon as we entered the kitchen, I went to work and made Abby her smoothie.  I got the blender out, threw in half a cup of crushed iced, half a cup of (Abby's) soy milk,  about 5 bite-sized pieces of melon (1inch x 1 inch) a little bit of sugar.  I poured Abby's in her rocket ship cup with starw, and mine…in a wine glass.
When we have ice cream, we add a scoop of ice cream for a more sinful smoothie. ;)  But I'll be holding off on the ice cream for now…at least for myself.  I just froze some bananas earlier.  We'll probably make a banana smoothie later or tomorrow.  Hee hee.  The things we drink in summer. :D