It's the "marry" month of June.  While I have reason to believe that June is no longer the month of choice for weddings, the words "June bride" and "June weddings" have already been deeply ingrained in our system. :)  So just for the heck of it, let's talk a little bit about weddings.
Every bride wants her wedding to be unique and memorable (for all the right reasons).  I was guilty of such a want.  :)  The key to uniqueness, in my personal opinion, is to personalize as much of the wedding as you possibly can.  That way, you really make every aspect of your wedding, big or small, your very own.  So personalize our wedding we did. :)
The souvenirs…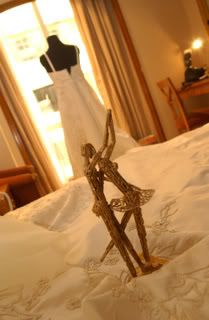 and table/buffet centerpieces…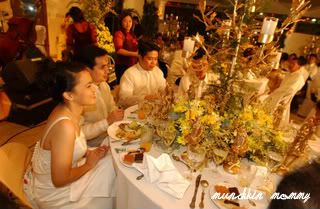 …were all handcrafted in our factory.  That's one of the perks of being an exporter. ;)  The decorations used in the church were lent to us by another exporter friend. 
Our wedding cake was a gift from one of our wedding sponsors who also catered our wedding.  I got the idea for the cake from a magazine.  But we did a few changes to make it our own…
Let us not forget the invitations.  We ordered handmade paper from an exporter friend who is into handmade paper and we printed the invitations ourselves.  They kinda looked like this…
Only, the material I used for the bow is rafia.  I snagged the above photo from 1st Class Wedding Invitations.  If we got married here in the US, I would have probably opted to order my wedding invitations from them instead and saved me a couple of sleepless nights putting my own invitations together.  This invitation looks handmade but it really isn't.  :)  I checked out the site and loved the choices available.  There's so many to choose from!  I especially liked the ZOOM feature on the website which allows site visitors to see every little detail of the invitations.   I believe this feature isn't available in other websites. 
That's about it.  I'm no wedding expert but I loved everything about my wedding.  Because every bit of it was mine…and my hubby's, too.  Hee hee. ;)
Did you personalize your wedding as well?  Or if you're only in the planning stages, how do you plan to personalize your wedding?