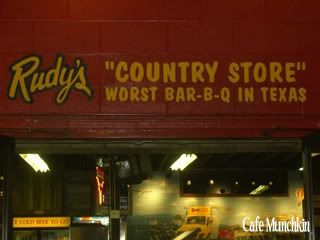 Our first dose of authentic Texan bar-b-q came by way of Rudy's Country Store and Bar-B-Q.  It's a no-nonsense fastfood joint and diners eat al-fresco.  With it's brick walls and hardwood tables and benches, the ambiance is truly Texan. 
The wooden tables are huge and could easily sit 10.
Momma ain't here, so clean up your own mess.
When we first came here last year, we had half-a-link of sausage, half-rack baby back ribs and extra moist beef brisket.  Everything was just bar-b-qd to perfection.  For carbo, there's all-you-can-eat white bread…the softest I've ever tasted and very good too!  Yum!  We had sides of potato salad and creamy corn and for dessert, chocolate pudding.  The trays look like beer crates and they have sodas and beers in old-fashioned bottles.
Plastic crates take the place of the usual trays.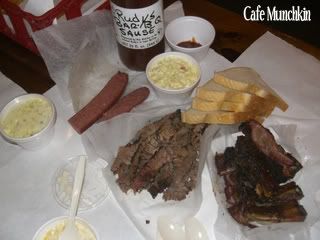 Half-a-link of sausage, half-rack baby back ribs, extra moist beef brisket and the softest bread this side of the world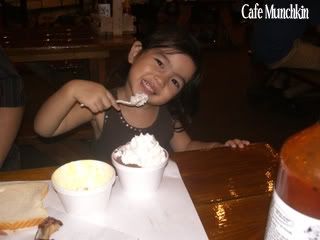 Abby loved the chocolate pudding with the generous dallop of whipped cream.
This was a truly unique dining experience for us…one that just screamed "Welcome to Texas!"