Yesterday, Father's Day, Abby and I treated the King of the Household to lunch at Outback Steakhouse.  It was Hubby's personal choice, every bit the manly man that he is, read, CARNIVORE. :D  I have a little secret…I haven't ever eaten at Outback considering there are several outlets in the Philippines.  A friend made a comment that the food was overrated and over priced so hubby and I didn't dare set foot in any of the outlets.  Shame on us!  Fortunately, during a business trip to California a few months back, Hubby was treated by our relatives to dinner at Outback.  Since then, he couldn't stop raving about the place.  It didn't come as a surprise that it was his top pick for Father's Day lunch.
To start of, we had the customary bread and butter.  It seems to me that restaurants are having a contest of sorts on who makes the best homemade bread.  Outback's was good, but that of Countyline's remains to be my favorite.

Bread and Butter
Hubby had an 8oz. Prime Rib, which, according to the menu, was "meticulously aged, then slow roasted to seal-in the savory beef flavor and to ensure tenderness, hand-carved to order and served with mouth-watering au jus and a choice of two sides".  For sides, hubby had roasted garlic mashed potatoes and caesar salad.  Hubby couldn't complain about his food, except for the caesar salad, which came out a tad too garlicky.

Prime Rib with a side of mashed potato and caesar salad (not in photo)
I had one of the three new specials, which are available for a limited time, Cracked Peppercorn Salmon: "Fresh grilled Atlantic Salmon encrusted with flavorful cracked peppercorns and topped with a delightful Cabernet sauce. Served over flame grilled asparagus with a side of whole grain wild rice."  Instead of the wild rice, I had roasted garlic mashed potatoes instead and steamed vegetables.  I loved everything on my plate.  The salmon, for one, was moist.  The steamed vegetables were flavorful.  And the mashed potatoes, fluffy and creamy. :D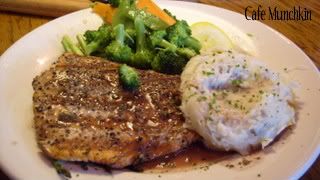 Cracked Peppercorn Salmon
From the Joey (Kid's) Menu, we ordered the Kookaburra Chicken Fingers with a side of roasted garlic mashed potatoes for Abby.  Sorry, no photos because Abby helped herself the moment her plate was laid on the table.  It's obvious by now, too, that the three of us are such big fans of mashed potatoes. :D  Hee hee. For dessert, we ordered Abby a Spotted Dog Sundae with Oreo Cookie Crumbles.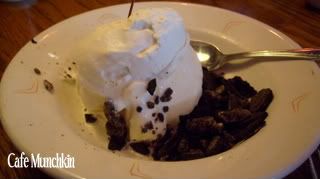 Spotted Dog Sundae with Oreo Cookie Crumbles
I've been very good in watching what I eat for the last three weeks.  Since it's Father's Day anyway, I thought I'd make an exception and have REAL dessert.  Hubby and I decided on a Chocolate Chocolate Tower: "a towering chocolate layer cake served with a raspberry sauce."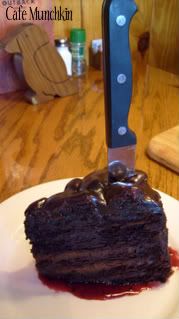 Chocolate Chocolate Tower
This dessert could have been called Death By Chocolate.  I like how the server just stuck a knife on the cake after it was laid down on our table.  I thought it was a cool touch.  With the raspberry sauce, it did look like the cake slice was bleeding.  Hee hee.  I have such a strong bias for chocolate desserts and I loved every bit of this chocolate cake.  ;)
How about you?  How did your family spend Father's Day?  Hubby got a lot of loots, too.  Come take a look HERE, my other WS entry.
Visit more Weekend Snapshot participants here.
Have a great week! :)