Ask someone from the Philippines what his/her favorite dessert is and most likely, leche flan would be in the top 3.  I love leche flan.  I've made it a couple of times in the last year.  Consistency is still my biggest problem.  I may come up with a perfectly nice batch one time and a rather disastrous batch the next. 
My most unforgettable leche flan nightmare though was the one I attempted to make in October last year.  The best leche flan is supposed to be one that is made purely from egg yolks…all the better if they are organic.  And don't forget the whole milk which should be organic as well.  If you have access to a supply of carabao's milk (waterbuffalo) then you have the ingredients to a leche flan that should blow you away.
In this part of the world, finding carabao's milk is next to impossible.  Organic products are very costly, too.  But since I wanted to blow my mind away with the ultimate perfect leche flan, I bought the organic eggs and organic whole milk.  
As I've said, I've made leche flan a number of time already.  The liquid mixture firming up was never a problem.  It may take some time to firm up, but it always does.  Except for that perfect leche flan I was trying to make.  I gave up on it after more than an hour, more like two really.  I didn't want my expensive ingredients to go to waste though, so I ended up scooping the mixture from the molds it was in and transferred it to several small glasses and refrigerated them.  I was hoping they'll finally gel.  And they did…a little.  The finished product looked like this…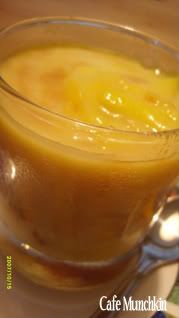 Yeah, it tasted good.  Still, it wasn't supposed to look like this.  This has got to be one of my more expensive kitchen nightmares.  I could have whacked myslef in the head with a Cobra golf club.  That was 8 months ago.  I think I'm ready for a "rematch". ;)