Did you know that last Saturday, 21 June, officially the first day of Summer, was National Flip Flop Day.  :D  We didn't.  It's a Tropical Smoothie Cafe imposed holiday, I think.  Coming from my daughter's dance recital, we decided to get some rest at home before we did anymore weekend activities.  We noticed a few people at the main street corner going into our subdivision carrying signages.  I couldn't make out what they said exactly except for a few random words…free…smoothie…flip flops.  Hubby got it though, thank goodness!  Apparently, the signs say that everyone wearing flipflops will get a free smoothie at Tropical Smoothie Cafe.  Woohoo!   
The Cafe is just a very short walk away from our house.  We, of course, went home first to change into flip flops.  Hee hee.  Yes, all three of us.  Instead of resting at home, we decided to rest at the Cafe instead. :D  When we got to Tropical Smoothie, we were each handed a coupon for a, get this, 24 oz. Jetty Punch Smoothie.  It's not just a regular-sized smoothie…it was a large one at that!  A Jetty Punch smoothie is a low fat strawberry-banana smoothie.  We love strawberries.  We love bananas.  We love smoothies.  We love freebies!  Hee hee.  How lucky can anyone get?!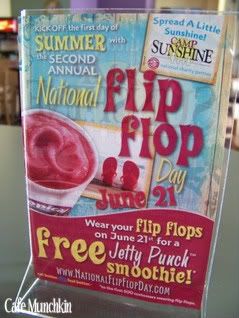 June 21st, National Flip Flop Day at Tropical Smoothie Cafe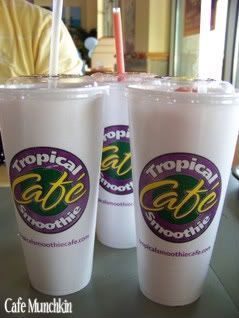 Three cheers for free smoothies!  Hee hee! :D
Anyone is welcome to claim a free smoothie without any obligation to buy anything else.  But because we are much too shy to be able to pull an act like that, hubby and I decided to split a salad while Abby had a ham and cheese sandwich.  Coming from the recital, Abby was hungry.  So it was a good decision on our part to take something.  :D

Chicken Caesar Salad
We missed last year's National Flip Flop Day.  We're glad that this year, we didn't.  I'll make sure to add this to my list of important holidays.  Hee hee.
I did mention it was also my daughter's dance recital last saturday.  I posted a few photos HERE, my other Weekend Snapshot entry.  Visit other WS participants here.
Have a wonderful week! :)