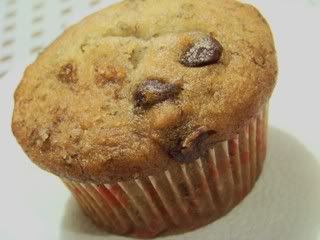 I have made banana  choco chip muffins countless of times.  But this latest batch tops 'em all.  Why?  Because Abby, my almost 4-year old daughter actively participated in making them!  This is our first kitchen project and definitely worth blogging about.  Hee hee. :)
Ingredients:
1 1/2 cups all-purpose flour
1 teaspoon baking powder
1 teaspoon baking sodia
1/2 teaspoon salt (We used sea salt.)
3 large bananas, mashed
3/4 cup white sugar
1/4 cup milk (We used light soy milk.)
1 egg
1/3 cup butter, melted
1/2 cup (or more!) semi-sweet chocolate chips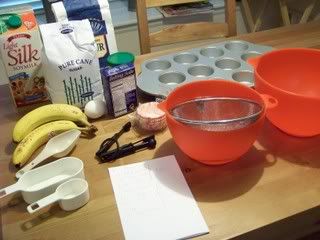 Procedure:
1.  Preheat oven to 350 degrees F (175 degrees C).  Coat muffin pans with non-stick spray or line with paper cups.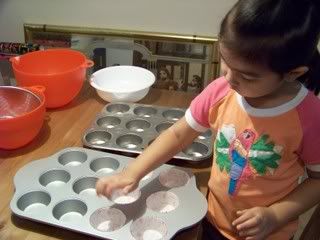 Line the muffin pan with paper cups.
2.  Sift together the flour, baking powder, baking soda, and salt; set aside.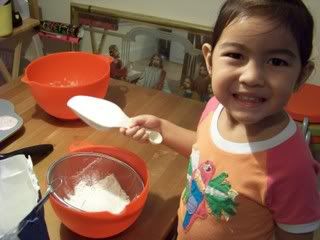 Sift, sift, sift.
3.  Combine bananas, sugar, egg, melted butter and chocolate chips in a large bowl.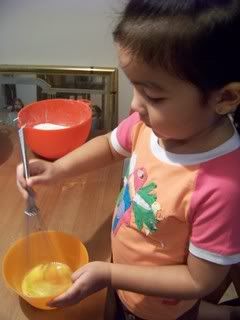 Beat the eggs lightly.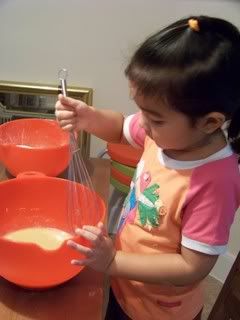 Mix together the bananas, sugar, egg, butter and milk.
4.  Fold in flour mixture, and mix until smooth.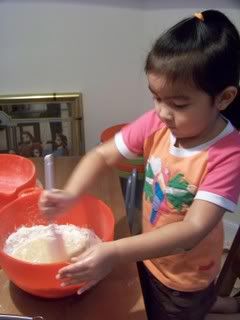 The art of ingredient folding. :D
5.  Scoop into muffin pans. 
Optional: Lick the batter off the spatula and mixing bowl. :P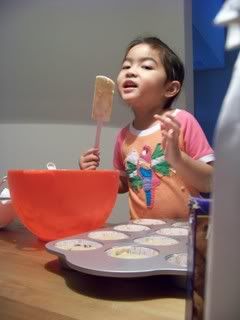 Go ahead, lick the batter off the spatula! ;)
6.  Bake in preheated oven.  Bake mini muffins for 10-15 minutes, and large muffins for 25-30 minutes.  Muffins will spring back when lightly tapped.

The finished product.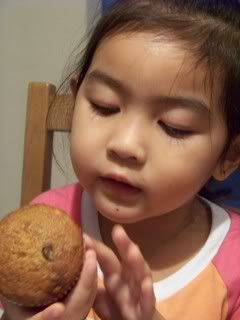 Quality control :D
Easily, the best banana choco chip muffins that came out of our oven! Promise! :)
We did this on Friday. From chef, Abby became a "little mermaid" on Saturday and Sunday, my other WS entry.  Visit other WS participants here.
Have an awesome week ahead!