This is a very easy theme for me. :D We love everything grilled and barbecued, only, we don't do it ourselves. We've only done so once. Hubby would love to get the grill going but I just think it's too much trouble to go through for the two of us and our almost 4-year old Abby.
I'm going to recycle photographs for this entry. What's important is that they're no longer on the homepage. Hee hee.
From Countyline BBQ

BBQ Beef Ribs

Chicken BBQ (I still love Aristocrat's Chicken BBQ with Java Rice and Atchara best of all!)
This last photo was taken at a friend's backyard the Saturday of this year's Memorial Day Weekend.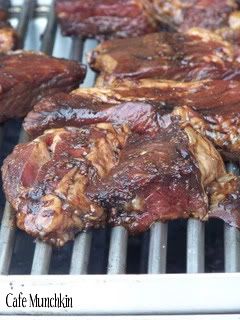 July 4th is coming up.  I predict there's going to be a lot of grilling on that day alone. :D