On July 4th, we took advantage of the lunch specials at Tokyo Steakhouse.  We only eat there during special occasions.  But hey, July 4th is a special occasion! ;)  It's amazing how much can be saved when opting to eat at an honest-to-goodness authentic Japanese restaurant during lunch instead of dinner.   I have never ordered sashimi in any of the Japanese restaurants we frequent.  Not until last Friday…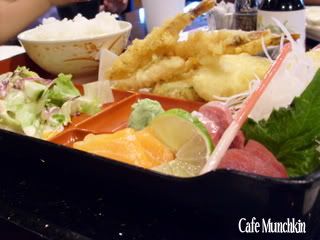 I had a Tempura & Sashimi Bento Box, which to me could be likened to a Japanese food gift basket, er, gift box.  Hee hee. :D  In my pretty box was a salad, sashimi (tuna, salmon and a third fish I could not identify), shrimp and vegetalbe tempura, and a sweet, fresh orange.  Oh, and let's not forget the rice! :)  It was one of the best lunches I've ever had.  The sashimi was sooo fresh I could really taste the difference between the fish used at the China Buffet Palace and Tokyo Steakhouse. 
It looks like we'll be having frequent lunch-outs from now on. ;)
Check out the busy skies of Sea World San Antonio, my other WS entry.
Visit other Weekend Snapshot participants here.
Have a great new week, y'all!