Hello there! :)  I have not been able to participate in Weekend Snapshot for (the last) two consecutive weeks.  I consider this as my WS comeback entry.  Hee hee. :D
We've been living in Austin for a little over a year now and in all that time, we've only eaten at a Thai restaurant once.  It was an experience I've chosen to forget and do not wish to relive.  It was that bad.  After what seemed like ages of hunting for a good Thai restaurant, hubby and I found two, which we wanted to try.  So far, we've tried one…Thai Passion.  I was giddy with excitement when we went to the restaurant about a month ago, but I made a conscious effort not to expect too much.
We ordered Thai Fried Rice with Shrimps, which was an instant hit with hubby, Abby and me.  It had loads of shrimps plus green peas, carrots, tomatoes, egg and onions.

Thai Fried Rice with Shrimps
Abby wanted noodles (and so did hubby and me!) so we gave the Pad/Pud Thai a try.  It is fresh rice noodles stir fried with green onions, bean sprouts and egg topped with ground peanuts.  It has a bit of sweetness to it that just had us going for that plate for a second (and third…and fourth?) helping.  It was definitely another hit!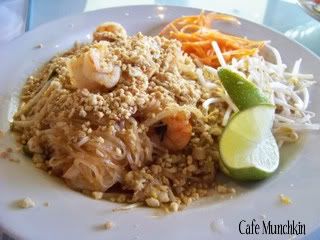 Pad/Pud Thai
And because hubby and I just love spicy food, we also made sure we had a curry dish.  We ordered one that is called Thai Passion Curry (Garee), which is Thai yellow curry with potatoes, carrots, bell peppers and onions.  Our choice of meat was chicken.  The dish is served with cucumber salad and big cup of rice.  This was my personal favorite.  I just love the curry sauce!  I could have done without the chicken, potatoes and the rest of the ingredients.  Uhmmm.  I lost count how many times I said that during the meal.  Perhaps, after every mouthful!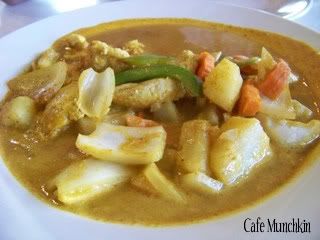 Thai Passion Curry with Chicken
For dessert, we had Tapioca with Coconut Milk.  Unfortunately, it was a let down.  It was sour…you now, the spoiled kind of sour.  It looked so good and at the risk of getting in trouble with my Mom, Abby had a few spoonfuls already before I managed to give it a taste as hubby and I were busy finishing the curry.  :D We called the waiter's attention and asked him to take it back to the kitchen and ask the chef if the sourness we detected is "normal" to this dessert.  After a few minutes, the waiter returned with the same bowl we sent away and said that according to the chef, it's really how it should taste because it has cornstarch, etcetera, etcetera.  Yeah, right.  Well, we did not torment the waiter anymore.  We simply did not eat the dessert anymore for fear that it might result to a colon cleanse of sorts.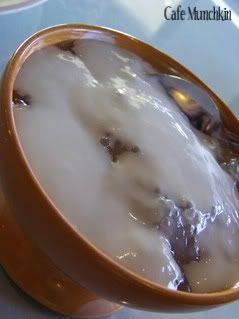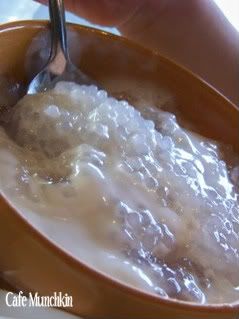 Tapioca with Coconut Milk
We are now planning to revisit Thai Passion for lunch on a weekday, when they have a buffet which is so attractively priced. ;)  I have to admit, I'm tempted to order the Tapioca again, if only to see if it will still be sour the next time around.  Or is that just a bit mascohistic?  Oh well.
I have another WS entry HERE.  Do visit other WS participants here.
Have a great week ahead!
Thai Passion
9041 Research Blvd
Austin, TX 78758
(512) 832-9722