The theme for week #7 of Lasang Pinoy, Sundays is "Soup".  I love soup, but I'm a bit partial to one that is already a meal in itself, like noodle soup and porridge (or congee as it is commonly referred to in the Philippines).
Last Sunday, we had dinner at TC Noodle House and I realized it's been ages since I've had congee.  I thought I ought to give it a try.  I ordered something really simple, but something I've always liked:  Porridge with Centruy Egg (Hundred Year Old egg is what it's called here)…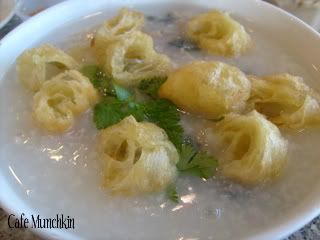 I had very high expectations because we like TC Noodle House and their food.  But, the porridge, while OK, wasn't exactly what I had hoped it would be.  It was bordering on bland.  I'm used to tastier, well-seasoned ones from Chinese restaurants in the Philippines.  This porridge reminded me of lugaw (Filipino term for porridge) that my Nanay (maternal grandma) would make for my Lolo (grandfather) when he's sick.  I had to use lots of soy sauce!  And the century egg?!  They were cut into very small pieces!  I doubt if they even used a whole egg for the porridge.  Hmp!
After everything I've said, I still haven't decided if I'll have porridge in that place again.  Seafood porridge next time perhaps?  We'll see.  You'll definitely hear read about it when it happens.