Last Friday, after browsing through book after book after book at Borders (at least, I did!), Hubby, Abby and I had dessert at what I'd describe as a "posh"  dessert cafe cum wine bar cum chocolate shoppe.  It's called Viva Chocolato.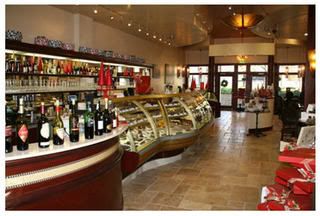 This pic was lifted from Viva Chocolato's website.  The rest are mine. :)
The photo above was obviously taken during the day and I have to say that the place comes alive at night, when the air is filled with the laughter of wine and chocolate lovers and live music is played by a guitarist/singer.  Notice that brightly lit little room at the far end?  It's where private parties are held!  A chocolat party!  That's my kind of party! ;)  Viva Chocolato hosts parties for kids and adults alike.
We sat at a quiet corner on a high table with matching bar stools.  I love the red and white thing going on with the lamps. :D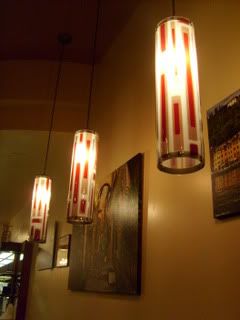 Abby, as usual, had strawberry ice cream!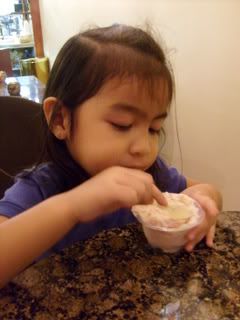 Hubby and I shared a slice of Ebony and Ivory cake ($6.95 a slice!!!).  The "ivory" frosting tasted like cheesecake and the "ebony" was rich and moist.  I loved it!  At that price, I was determined to make myself love it!  Hahaha!
I would love to come back to this place for a sampling of their truffles.  I just found out that they have happy hour everyday from 4-7pm and one can pair a glass of wine with a truffle for 4.95. ;)  How chic is that?!
Viva Chocolato
3401 Esparanza Crossing #104
Austin, TX 78758
(512) 339-8482