There are three things that I would consider as birthday staples, among Filipinos at least…pancit (noodles), ice cream and cake.  One of these three, if not all three, will always make it to a birthday feast, no matter how intimate. 
This is Abby's 1st birthday cake…

Cake by Dexter's Bakeshop
This is MY 30th birthday cake, prepared for me by the then Westin Philippine Plaza…

Chocolate cake squares, a Bailey's dessert and a glass of champagne.  How can I complain?!
And these are Hubby's birthday treats last year prepared by Tokyo Steakhouse…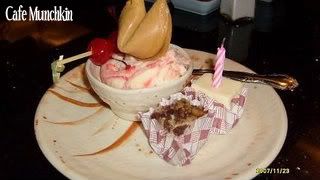 Ice cream and mini cakes
I just love birthdays!  :D