I can't keep this entry wordless.  And you'll see why.  Sorry! :D
Several weekends ago, we had a grand time lunching (is there even such a word?) at Mighty Fine Burgers, Fries, Shakes. If you love burgers, then may I just warn you that this entry might just make your mouth water. :D
Note: The words in block quotes were taken from the Mighty Fine website. :)
The Burgers
As per the menu board:
Mighty fine's premium Texas Style burgers are made from 100% fresh all-natural beef that is ground on-site and hand-formed.
You gotta believe them. Burgers are indeed ground and hand-formed on-site! :D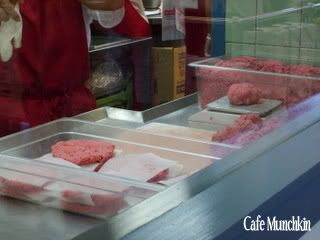 Here's what they have to say about their burger add-ons:
Mighty Fine's commitment to quality and freshness is carried over to every product we serve. The lettuce, vine-ripened tomatoes and onions are hand sliced on site each day. We use real American cheese and our buns are baked fresh daily.
This photo that just about proves the above words. I gotta have that tomato slicer!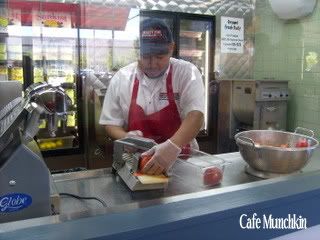 Oooh, juicy burger. Hubby and Abby loved it. Your mouth's gonna be stretched to its limit from the first to the last bite. Hee hee. California is all the raves with its In-and-Out Burger. Hubby dares say that its match here in Texas is Mighty Fine. ;)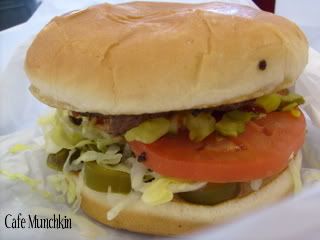 The Fries
When it comes to fries, Mighty Fine re-wrote the book. We serve the only fresh cut, crinklecut fry in Texas and quite possibly the entire nation. We start with fresh potatoes shipped straight from the farm. We then hand-cut and crinkle each fry with a special machine before frying them in 100% trans-fat free peanut oil.
I'm loving their potato cutter/crinkler machine. Is that what it's called? Hee hee.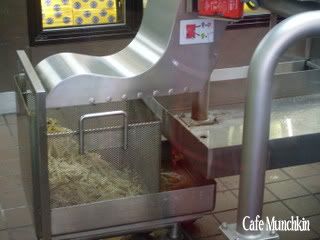 From cutting/crinkling to frying…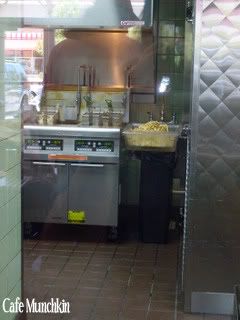 Yummy and irresistable crinkle fries! Abby loved it!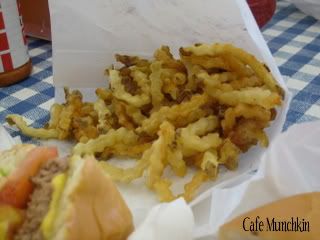 The Chili Dog
Mighty Fine calls their chili dog – Spicy Chopped Chili dog…
This unique chili recipe contains the same Coleman all-natural chuck we use for our hamburgers. Our proprietary 100% all-beef franks are sliced rather than served in whole links. This creates a chili dog with a "one-of-a-kind"taste and one that is both less messy and easier to eat.
Just please take my word for it. This tastes better than it looks.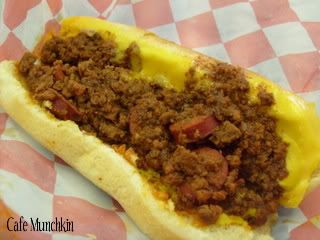 You might just want to stick to the burgers though, only because you'll end up envying the people in your party who were smart enough to order the burgers, which are huge, juicy and yummy.
The Shake(s) and Lemonade
To top it all off, we offer guests delicious hand-dipped milk shakes and hand-squeezed lemonade. Our shakes are made with Blue Bell premium vanilla ice cream. We believe a high quality shake should always be hand-dipped and hand-spun, we do both at Mighty Fine. Even our chocolate sauce is made from scratch daily.
The shakes was just too good. I don't know if I just imagined it, but I had the impression Hubby was hoping Abby wouldn't finish her chocolate shake. Hahaha!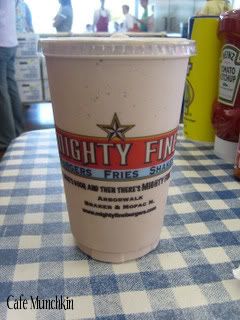 Our hand-squeezed lemonade is only made with the freshest hand-cut Sunkist lemons plus an added "secret" ingredient that results in a unique, Mighty Fine taste.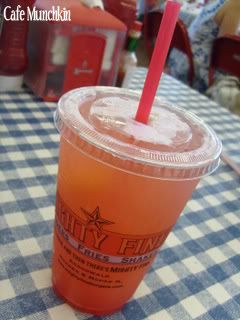 Etcetera
Besides the shakes, lemonade and soda (from the vendo machine), Mighty Fine has beverages which come in glass bottles. I'm sure the environment appreciates this very much. :)
This one, I truly truly appreciate. They use Sea Salt! Woot Woot!
Abby is showing off her clean hand. :) Mighty Fine has this ultrasonic hand washing machine. You put your hands through a stainless contraption and automatically, your hands will be sprayed with water, soap and brushed gently by the machine. Cool! Abby loved it. After that, you earn the right to a sticker which says "I have clean hands". ;)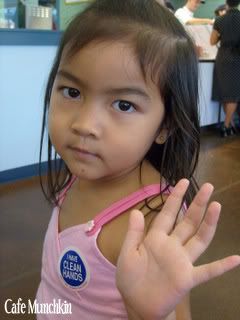 What can I say, everything about Mighty Fine is, well, mighty fine. ;)