What McDonald's is to the US, Jollibee is to the Philippines.  Jollibee is the number one hamburger/fastfood chain in the Philippines.  It has 23 outlets outside the Philippines and 12 of these are in the US.  Unfortunately for us, the US outlets are concentrated in the West Coast, specifically, California.  There's one outlet in Nevada and another one is set to open in New York some time this year.  I consider our dinner at Jollibee when we were in California a month ago, to be the highlight of our CA holiday, at least, where food is concerned. ;)
We went to the Jollibee West Covina outlet.  And I tell you, it was like we were home.  :D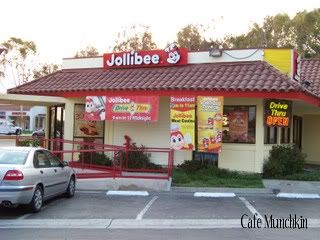 2-dollar weekday treats? Not bad. I would have paid $5. But that's just home-sick l'il 'ol me. :P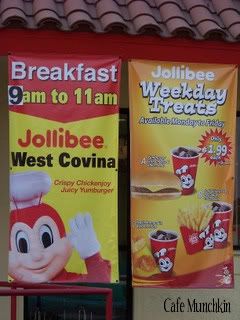 If McDonald's has a Ronald McDonald, Jollibee has, well, Jollibee!  :D
Abby had a one-piece chicken joy kiddie meal. I loved the pail that came with the meal! Too bad we forgot to bring it back home to Texas.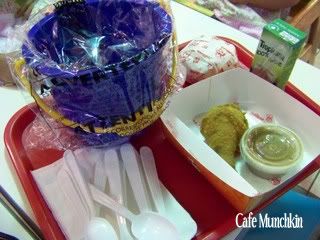 I've already decided what to order long before we left Texas: chicken joy and palabok (noodles with yelloworange-colored sauce). In the photo is a one-piece chicken joy and palabok meal (my aunt's).  Normally, this would have been enough for me.  But after more than a year of Jollibee free existence, I wanted MORE.  Hahaha!
Both Hubby and I had a 2-piece chicken  with lots of gravy. Forget the mashed potato. Forget the biscuit. Forget the coleslaw. Hello rice! Hahaha! The rice serving, by the way, was as big as a hamburger bun. Huge!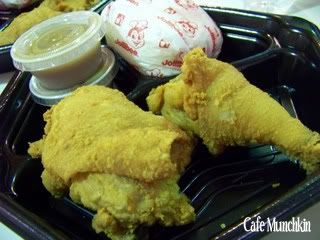 Hubby was happy to finally have fried chicken with rice. Fried chicken without rice is just not the same. And I'm speaking for both Hubby and me. :D
Don't I look positively and absolutely happy?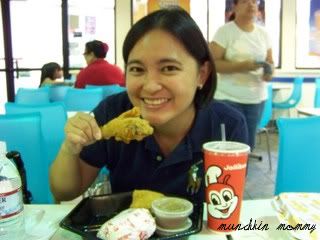 Hubby and I also shared an order of pancit palabok.  Yummy! :)
I could have eaten at Jollibee everyday during our 9-day stay in California.  Really!  Nevertheless, I'm glad we didn't.  I'd probably end up seeking solace in diet pills after a daily diet of greasy chicken.  Kidding. :P 
Fly with Abby here, my other WS entry. :) Have a great week ahead!