I got this tag from my fellow Wifespeaks wifeys, Em and Maver.
Hubby and I love to eat.  And it doesn't come as a surprise that our sheer love for food has rubbed off on our daughter, Abby.  Abby will eat anything I put on the table…vegetables, fruits, meat, fish, etc.  Like me, Abby has a sweet tooth, too.  I can't say that there's a food that Abby "fears".  For me, the strangest food (if you can even consider it food) she just has a blast devouring, it's the batter for baked goodies that's left on the mixing bowl.  Here she is in all her mixing-bowl clean-up glory (I've posted these pics before but they're worth reposting, if I may say so myself!)…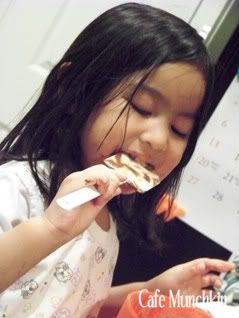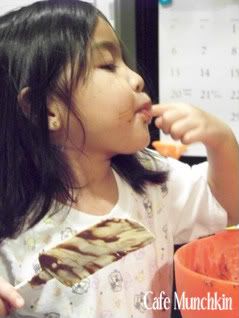 ~~~Start Copy~~~
1.) Name something strange that your kids love to eat. Doesn't matter how many.
2.) Post an image of him or her enjoying 'the' strange food liking. If none, just a photo of him having a feast.
3.) Add your kids name in the linky love with the blog where you posted this meme.
4.) Get back to Living the Healthy Life Blog by leaving a comment so your kids' name be added to the master list.
5.) Tag as many of your friends with kids.
Kids who joined the fear food factor: ETHAN / MARTHA / JJ / Ozzy / GABBY and NICCO / ESTONG / Kuya and Kowi/ Big Brother AL-kiddo of Mommy Yen / LIZZIE / HALIGILET / DIMPLE / Ethan – kiddo of Mommy Butchay / EU-LEH "Kulit" – Little One of C.A. "tque" / Munchkin Mommy's ABBY / YOUR KID's NAME with your Blog's URL
~~~End Copy ~~~
Consider yourself tagged if you're a Mom and you have a blog. ;)  Oh what the heck, this tag is up for grabs!  Hee hee! :D