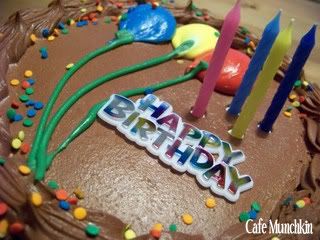 Yesterday, the 17th of August, was my Abby's 4th birthday. It has been a family tradition, as far as Abby's birthdays are concerned, to start the day with the candle blowing "ceremony". She gets a real kick out of it! Hee hee. ;) It doesn't even really matter how the cake looks or where it was bought. It's all in the blowing of the candles, really. We got the cake from Walmart the night before. It's chocolate with chocolate buttercream frosting. There's balloons, too! At $8.50, that's a steal and it actually tastes good.
Aaaah, the perks of being a child. :) For now, Abby doesn't have to worry about rent, tuition, savings accounts, etc.  But that's not to say she's not slowly being taught the value of things.  ;)
I have another WS entry HERE.  Have a great week ahead!  Cheers!