Chuck E. Cheese's has become one of our favorite places to hang-out in.  For her birthday, Abby specifically requested that we have pizza for lunch.  She wanted to spend a few hours at Chuck E. Cheese's as well.  We let her have her way.  The three of us had fun all right.  The only real challenge was making Abby sit long enough to finish a slice of pizza, that and to win loads of tickets we can exchange for prizes.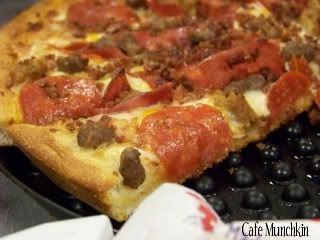 While CEC's pizzas aren't exactly gourmet, they are satisfying nonetheless.  I'd even say I like them.  :)  The atmosphere in the restaurant cum mini-indoor theme park probably adds to the pizzas' likeability.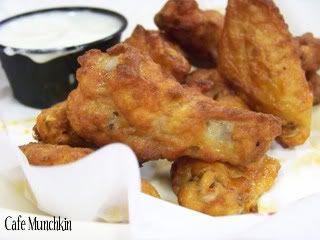 What I like best at CEC though, are the wings.  I can have an entire order all to myself.  But since I still have a bit of pride left in me, I shared it with Hubby and Abby. :D  Abby loved the celery sticks the wings came with.  She had no competition in that area. :D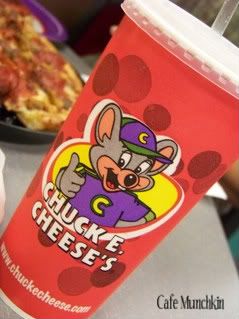 With free refills, one won't have to fear going thirsty at CEC.
CEC also has salads and desserts on the menu.  They hold parties, too!  In fact, Abby had her 3rd birthday party at CEC last year. ;)
I still have some CEC coupons waiting to be used on our next visit. :D