Abby has had enough birthday cakes from all 4 of her birthdays to last her until she's about 11 or 12. It has become a family tradition to have a birthday cake ready and waiting for her since her 1st birthday. And then, there are the "real" birthday cakes for the parties and family gatherings. Let me not forget, that relatives and friends sometimes bring a cake, too!
Here's an inventory of all of Abby's birthday cakes:
1st Birthday
For her first birthday, her morning birthday cake was from Brownies Unlimited. A no-nonsense brownie cake, which was meant for candle blowing practice. But one-year old don't really blow the birthday candle on their own, do they? Simple as it is, I loved this cake. It was rich and cheap, too! It was less than a hundred pesos!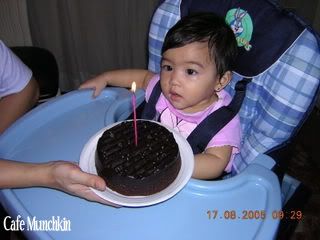 For Abby's circus-themed 1st birthday party, we ordered the cake from Dexter's Bakeshop. This is my favorite from all the cakes Abby has had so far. It's the most expensive, too. In 2004, a cake like this was worth Php 2500.00. It was worth every Philippine centavo!
2nd Birthday
Abby's morning cake for her 2nd birthday was from Goldilocks. It was chocolate mousse. I loooove chocolate mousse. For so many years since I was a little girl, it was my favorite cake. And then, I grew up and decided blueberry cheesecake was my favorite. Now it's just cheesecake…no matter the variation. ;) Oh yeah, this was a milestone birthday as far as candle blowing was concerned. Abby succeeded in blowing the candles and did it over and over again!
We had an intimate dinner at home on the night of Abby's second birthday. We only invited immediately family and a handful of friends. My aunt and uncle brought a chocolate mousse from Red Ribbon. Choco mousse in the morning and choco mousse in the evening. That is the life! ;)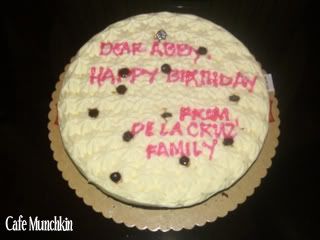 We ordered a Barney birthday cake from Goldilocks for Abby's birthday dinner. Goldilocks has always been known for its gorgeous birthday cakes. My brother and I used to have Goldilocks birthday cakes when we were kids, too! In 2005, this cake was worth Php 1200.00. It could have been cheaper if we chose a different flavor. This one is chocolate with caramel filling. Yum!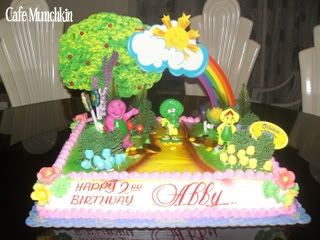 3rd Birthday
Abby's 3rd birthday cakes were the least fancy, if I may say so myself. She had birthday cupcakes, by the way. We've already moved to Texas by then and I wasn't very familiar with the ins and outs of birthday cakes. Hee hee! So I made cupcakes using Pillsbury ready-mix. Instead of paper cups, I used ice cream cones. These were waiting for Abby the morning of her 3rd birthday…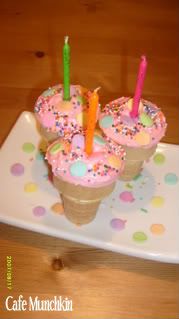 I made more of the same cupcakes for her classmates and for her birthday dinner at home.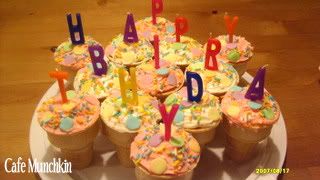 My friend brought a giant cookie for Abby's birthday dinner, which her sons and nieces decorated. It's chewy and yummy. That's the magic of "labor of love" and "made-from-scratch" goodies. ;)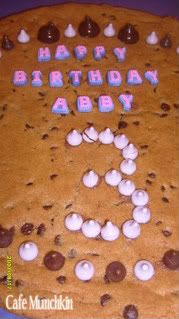 I wasn't into baking from scratch yet, when Abby celebrated her 3rd birthday. So I baked chocolate Pillsbury cupcakes for her birthday party at Chuck E. Cheese's. These were for the parents. Hee hee.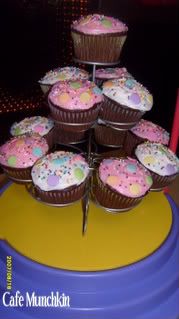 Abby and her kiddie guests feasted on the birthday cake from Chuck E. Cheese's. I noticed two weeks ago, when we were in Chuck E. Cheese's, that their birthday cakes have improved so much and look way better now. :)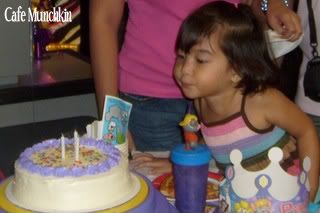 4th Birthday
By Abby's 4th birthday, I've tested and tasted a number of store cakes already. I know that they are good in spite of their relatively affordable price. Abby's morning birthday cake was bought from Wal-Mart. It's chocolate cake with buttercream frosting. It was already after 9pm when we bought this cake. From the original $8.00 price, we only paid $6.50. And it's not bad tasting at all! We like it! Promise!
We had Abby's birthday dinner at a friend's house. The cake, this time, was bought from H-E-B. It's chocolate, too! I can't quite recall the price but I'm positive it's less than $10.00.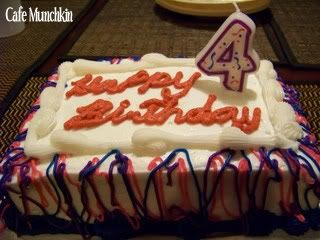 Abby had her birthday party a week after her actual birthday. We ordered a Disney Princess birthday cake from Wal-Mart two days before the party. I believe Wal-Mart, HEB and a lot of other stores get their cake from Cakes.com. Anyway, the size is 1/2 sheet which can serve upto about 40 people. For the $28.++ price, I'll say I was a bit disappointed. I was expecting something, well, prettier. The cake looked better in the catalog. And as I've mentioned in my Wordless Wednesday entry, I was even the one who put the Disney princesses on the cake at the party venue! I sorely missed Goldilocks when I saw the cake. Oh well.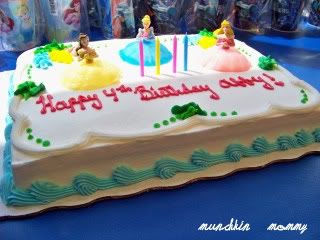 That's quite a lot, huh? To think I didn't include the cakes that restaurants give for free to birthday celebrants, of which, Abby had 2 (1st and 2nd birthdays).
Some of you might think we go way overboard with the cakes. Well, we probably do, and we love it. :) Next year, we'll surely have at least 2 cakes again!