7th birthdays for girls are a big deal in the Philippines.  I don't know why and how that came to be.  I, for one, didn't have a lavish 7th birthday party.  I don't even recall having a party at all!  But of late, a grandiose 7th birthday party is becoming more and more popular.
My eldest niece, Kylah, had an Arabian Nights themed 7-birthday party.  And this was her BEAUTIFUL birthday cake…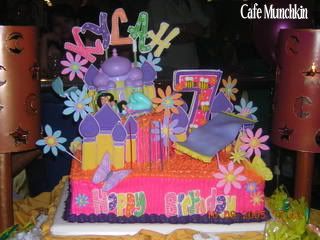 The cake was ordered from Dexter's Bakeshop, the same bakeshop where Abby's 1st birthday cake was ordered.  It IS beautiful indeed.  Jasmine, the mosque and a magic carpet added an evern more special touch to the already special cake.
The lamps, by the way, were handmade in our very own factory.  We export metal art. ;)
Have a great (long) weekend, y'all!
Visit other photo hunters here.