Last Saturday, after coming from a children's party, Hubby, Abby and I headed to Ikea to check out their Labor Day Sale.  We decided to have lunch there, too.  This time, except for Abby, Hubby and I both ordered something we haven't ordered before.
Hubby went for the day's special promo meal of 1/2 Baby Back Ribs served with a side of fries and corn bread.

1/2 Baby Back Ribs with Corn Bread and Fries
From the photo of the ribs, would you be able to guess if Hubby enjoyed his meal?  I don't know if Hubby just got unlucky but the ribs he was served looked like it came from a malnourished pig.  It was all ribs and no meat.  It tasted ok, according to Hubby, but he wished there was more to taste.  Hee hee.
As for me, I ordered the Pasta Marinara and Side Salad combo.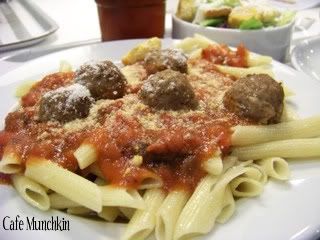 Pasta with Marinara Sauce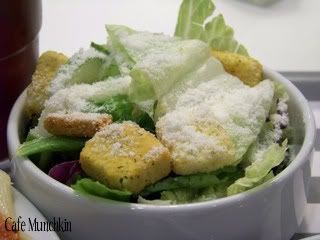 Side Salad
I wasn't very happy with my food as well.  The sauce was too bland for me.  I added a dash of salt (a couple of times at that!) but that didn't quite work for me.  I grew more interested on the car insurance comparison conversation on the next table (which was a little too loud!) than on the food before me.  I was only able to finish half of my pasta. :(  Next time, I'll stick to the Salmon Rice Pilaf.
Redemption came in the form of dessert, our usual chocolate cake.  That, I enjoyed.
I hope y'all had better meals this weekend. :)
Check out Shamu's Happy Harbor, my other WS entry.  Visit more Weekend Snapshot participants here.
Have a great new week ahead!