We've been living in Texas for close to a year and a half now.  In that length of time, we've tried a number of barbecue places already.  Texas, you see, is almost synonymous to the word BBQ. :D  With the number of BBQ places around, it is very seldom that we go to the same barbecue place twice, except for 2 hands down favorites (County Line and Rudy's).
Last Sunday, we had lunch at Pok-E-Jo's.  It was our first visit.  And since Hubby and I couldn't decide on what to order, we did the most logical thing…we ordered the 4-meat platter of chicken, beef brisket, baby back ribs and sausage. :D  These are the very same meats we order at the other barbecue places we've had the chance to visit.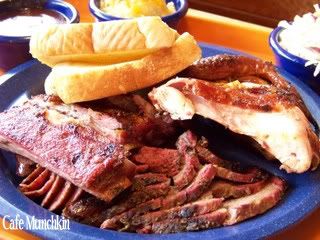 Each BBQ plate order comes with 2 sides, 2 slices of toast, Pok-E-Jo's barbecue sauce and condiments from the condiment bar (pickles, onions, etc.) .  For our sides, we ordered mac-and-cheese (for Abby!), mashed potato, plus an extra order of coleslaw (which Abby loves, too!).  We also ordered extra slices of wheat bread.  For the sauce, we got both the spicy and regular sauces. :D
It was a wise decision to order just the 4-meat platter for the 3 of us.  Abby, for one, doesn't really eat much.  She was mostly after the side dishes and a few slices of chicken.  Hubby is still partial to Rudy's moist brisket, but he preferred Pok-E-Jo's baby back ribs.  We both loved the barbecue sauces, specially the spicy one!  The mashed potato was a little too sour for our taste, must be the sour cream. :)  Everything else was good.
There's a very good chance the we'll pay Pok-E-Jo's a second visit. :)
Pok-E-Jo's Smokehouse
2121 W Parmer Ln
Austin, TX 78727
(512) 491-0434