We were at the Ikea last Saturday to check out their Labor Day Weekend Sale.  They did have a lot of good deals….for things we don't really need just yet.  Hee hee.  I bought 2 new tools for my kitchen and mind you, they weren't even on sale.  Tsk tsk.
I finally had enough of slicing eggs with a knife.  You know how conventionally sliced eggs don't really turn up so pretty.  So help me welcome my new egg slicer!  *claps*  ;)
I also bought myself a new garlic press.  The one I got as a present last January snapped in two a couple about two weeks ago.  It was a Good Grips garlic press.  It grips good, all right, just doesn't last very long.  *ugh*  I've already used this garlic press once and I'm loving every bit of it.  It's cheaper and so much better than my old one.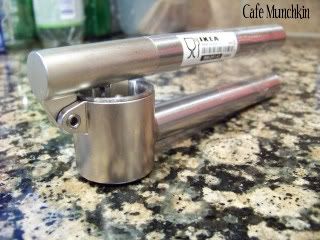 If only they can invent a similar contraption to rid of *whispers* blackheads. ;)
Do you have a favorite handy kitchen tool?