Party season has started, at least for my social butterfly of a daughter.  She was the first to have a birthday party in school (August 23rd).  Last Saturday, August 30th, she attended a classmate's birthday party.  Abby is set to attend 2 birthday parties this month, too!  I don't recall attending very many birthday parties as a child…a 4-year old child!
Going back to last Saturday's party….Abby's classmate, E, loves Iron-Man. :)  He had an Iron-Man cake and invitations.
There was a slip-n-slide set up at the backyard, which Abby and all the other kids enjoyed so much!  They waded in a small kiddie pool for a few minutes, too!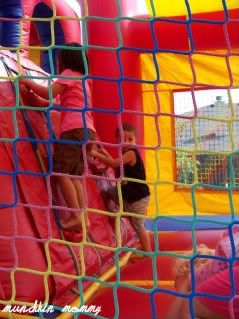 E's parents rented one of 'em popcorn machines and almost everyone I bumped into, child and adult alike, was holding a bag of popcorn.  After about an hour-and-a-half of non-stop playing, the kids settled down for some juice, popcorn and cake.  I still can't get over how birthday parties here in the US are so simple, yet the kids have a blast.  I've come to appreciate American-style parties.  But I still miss having birthday noodles around!!! Hahaha! :D