"Mommy, let's bake something!"  Abby has been bugging me everyday before Labor Day Weekend.  She suggested brownies or cupcakes.  I finally relented on Monday, Labor Day.  I now try to bake everything from scratch because they just taste so much better than the boxed ready-mixes.  It used to be the other way around.  I thought those ready-mix thingies were the best things since sliced bread.  Then again, even a bake-from-scratch convert like me has moments…lazy spells, I call them. :)  I thanked my lucky stars when I found a box of Pillsbury Yellow Cake Mix in the pantry.  Woot!  Woot!  That automatically translates to fewer mixing bowls, measuring cups and spoons to clean-up. ;)  All we needed was oil, water and 3 eggs, and Abby will satisfy her need to bake.  Weee!
I do think I like the Yellow Cake mix better than the Red Velvet mix.  Abby couldn't be happier when I added frosting to some of the cupcakes.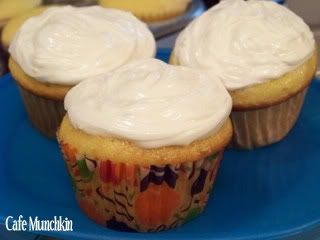 Abby was a happy camper.  Never mind if we took a short cut!  After her cupcake fill, she allowed me a few minutes on the phone with my friend, who was asking my opinion about her desire to start offering credit card payments for her on-line business through authorize.net.
It's only a matter of time before Abby asks that we bake something again.  Now that I've used up all the ready-mix cakes I bought a long time ago, it looks like I will have to brace myself for the "real deal". ;)