I had a eureka moment at the Asian supermarket last Wednesday.  Finally, they had green mangoes (mangang hilaw as we call it in the Philippines) that weren't all bruised and mushy.  The last 2 or 3 times we went to the supermarket, my heart sank whenever I saw that the green mangoes weren't good enough to be taken home.  This time, I went home victorious!  Woot woot!
Ever since I was a little girl, I was already fond of green mangoes…yes, mangoes that are unripe. :D  The greener, the more unripe and the more sour, the better.  My Mom, on the other hand, likes green mangoes that already have a tinge of yellow so they are no longer as sour.  In the Philippines (and according to Wiki) there are four mango varieties: Indian Mango, Kinalabaw or Mangang Kalabaw, Pico and Apple Mango. I like the Kinalaw best.  It's the most sour when still green!  Hee hee. :)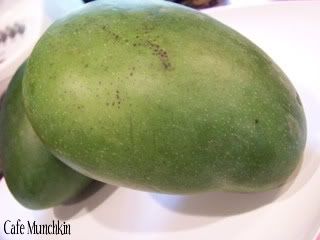 I can snack on green mangoes.  And I can eat it with rice, too.  Either way, there has to be bagoong (shrimp paste)!  Here in the US, we buy the Kamayan brand of bagoong.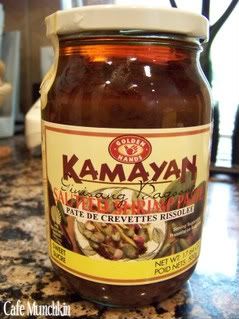 It is ready to be served, but some still saute it in garlic and onions.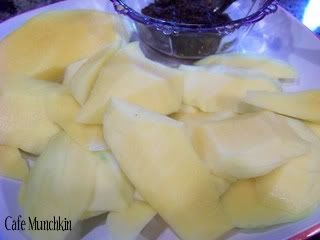 Ahhh, mangang hilaw at bagoong…such a simple pleasure.  They never fail to put a smile on my face…and my tummy, too!  Hee hee. ;)