Garlic is almost always included in the list of ingredients of most dishes…the ones I cook at least.  Thus, a few days after we arrived here in Austin, one of the first things I bought for my kitchen was a mortar and pestle.  I grew up with a grandmother who either used a mortar and pestle or the flat side of a knife to crush garlic.
As you can see, the pestle is missing.  I dropped it and that's the end of it's life story. For fear that I might just end up breaking another pestle, I resorted to using a meat tenderizer for crushing garlic.  Hee hee.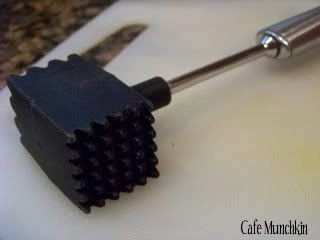 That was until an aunt gave me a garlic press last February.  And I have to say, crushing garlic was never the same.  Unfortunately, the darned thing broke several weeks ago and I was back to using the meat tenderizer for my garlic crushing/pressing needs.  When we checked out Ikea during their Labor Day sale, I decided to buy myself a new garlic press.  And I'm glad I got myself a new one!  I simply love it.
My Mom, however, isn't a believer of garlic presses.  She doesn't like the effort you need to exert to, well, press.  Hee hee.  She'd much rather use the mortar and pestle, the flat side of a knife or, you guessed it, the meat tenderizer.  Old school, I tell you! :D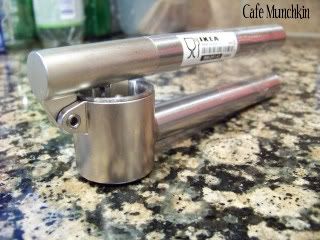 But how can I not love this thing?  It's so easy to use!  All you have to do is put a piece (maybe 2 pieces?) of garlic into that little round compartment which looks like a giant thimble.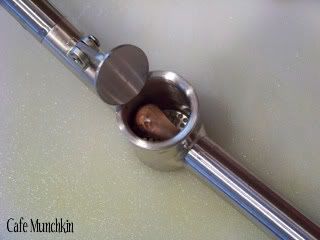 Press it and voila!  Crushed garlic!  Ain't that pretty?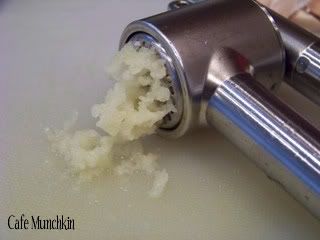 All that's left inside is the garlic peel/skin.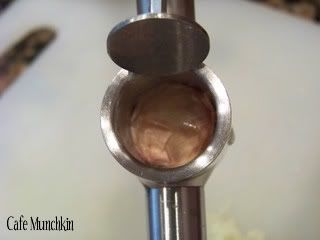 See?  No tedious peeling necessary!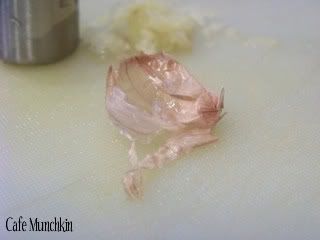 Simple pleasure from the kitchen.  You have got to get one for yourself, too…if you haven't got one yet! :D