This is Abby's lunch bag.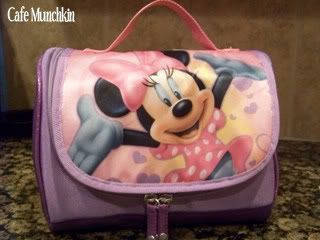 Abby is only in pre-school but she takes her lunch in school.  It's part of the montessori training so kids will learn to set-up the table, eat and clean up by themselves.  The school has very strict rules when it comes to the food that goes into the lunch bag.  Juices have to be 100% juice with no sugar added.  There should be no cookies, candies and other types of sweet desserts.  Lunches should also come in containers that the kids can easily open by themselves.  Lunch, as much as possible, should be food that won't require reheating because there's only one microwave in class and if all 12 or so kids have to reheat their food, then that'll be a bit of a problem.
This Abby's usual lunch fare…
…steamed pork buns (siopao), fruits and some veggies to nibble on.  What she always asks me to pack in her bag though are siomai or dumplings.  Her food containers are sure to come home empty if she has those Asian favorites for lunch.  If it's anything else, like chicken nuggets or sandwiches, they'll be half eaten at best.
Thanks to this week's La.Pi.S. theme, I was introduced to two websites which may just be what I need so Abby can have more fun lunch alternatives.  My friend Meeya led me to KitchenCow.  And through KitchenCow, I discovered LunchInABox.  I love both site's bento lunches!!!  And I now know that there are a good number of people who make lunches in such an artistic fashion.  I had a sudden burst of inspiration and motivation to make Abby's lunches more fun, interesting and creative.  I'm excited to buy fun food containers, too!  Hee hee.  Hubby is home-officed so he doesn't need to pack lunch.  But I might just make him bento lunches as well!  Hahaha! :D
This is my entry for this week's Lasang Pinoy Sundays.