What influences your purchasing decision, say when it comes to food items?  Price?  Nutrition?  Freebies?  All of the above?  When it comes to Abby stuff, nutrition is first, of course!  When it comes to Hubby and me, we are a little more, uhm, flexible.  Hee hee.
We shop at H-E-B and they have pretty good deals every week.  Last Friday, I made a quick stop at H-E-B after dropping Abby off in school and just before I went looking for car covers.  We were out of coffee and coffee, is a must-have here at home.  Almost of the same importance level as rice.  :D
For a very long time, we've been buying Seattle's Best ground coffee (Creme Brulee's my fave!).  But that particular Friday, I traded my SBC ground coffee for a local Texas brand, which we also like anyway, Cafe Ole.  It's about 30-50 cents cheaper than SBC's.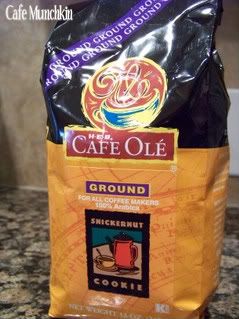 I got a flavor which we haven't ever tried yet, Snickernut Cookie.  And I have to say, I like the nutty taste. ;)  And the aroma alone is enough to wake me up!  Hee hee.  That isn't the best part of the deal though.  For buying that $5.99 package of ground coffee, I got this for free…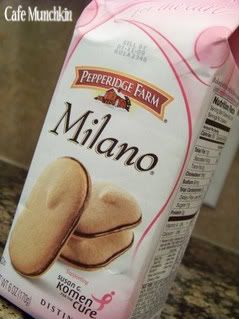 How's that for a good deal?  A package of Pepperidge Farm cookies costs $3.39.  I chose our favorite cookie variant, Milano.  Instead of the regular package, I picked one that came in a very nice pink and white packaging, in support of Susan Komen's The Cure (for breast cancer).
I got my coffee and a package of yummy cookies, too! :D  Truly a winning moment.  Hahaha!